Grace's Trajectory Pointing Skyward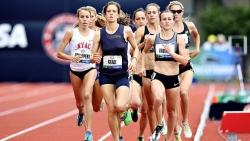 May 21, 2013
The four-time All-American at Yale is beginning to believe anything is possible
By Duncan Larkin, WomensRunning.com
Watch Kate Grace run a few laps around a track and you will immediately conclude that she has a fitting last name.
A four-time NCAA All-American while at Yale, Grace has been on a tear lately both on the track and along the roads. Last month, she won the USA 1 Mile Championships in Des Moines, Iowa, with a heroic final kick in the last 100 meters to edge past Sara Hall. And on the track at the Drake Relays, she recently set a personal record in the 1500 meters (4:08.24).
But the best news that spurs the 24-year-old along and gets her dreaming of Olympic medals is that she keeps getting better. She hasn't hit a plateau, and her trajectory continues to point skyward. She's at the point all runners desire to reach -- the point where anything is possible.
Continue reading at: ESPN.com