Genzebe Dibaba Reportedly Will Double at IAAF World Championships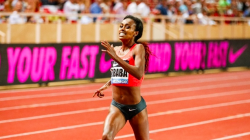 July 28, 2015
Completing the 1500m and 5000m double would mean a total of five races spread between just nine days, with three rounds in the 1500 and two in the 5000m.
By Lincoln Shryack, FloTrack
Just one week after the Ethiopian Athletics Federation announced that 1500m World record holder Genzebe Dibaba would only compete in the 5000m at the IAAF World Championships, the 24-year-old Dibaba has reportedly confirmed that she will in fact compete in the 1500m and 5000m in Beijing.
The news was broke by European track & field journalist Alfonz Juck, who tweeted this:

After setting the 3:50.07 world record on July 17th in Monaco, Dibaba announced that she would pursue the unprecedented double at the World Championships.The Ethiopian not only owns the 1500 world record, but also the indoor 1500, 3000, 2-Mile and 5000 records as well.
Continue reading at: flotrack.org