Gary Martin runs sub-4 minute Mile at the Philadelphia Catholic League Championships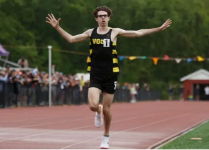 May 14, 2022
"I mean that was the big one, 4 minutes, that's a big barrier for a high school Miler... I'm just going to try and enjoy the rest of my high school career."
By Gustav Elvin The Philadelphia Inquirer
Archbishop Wood's Gary Martin had come up just short of breaking the 4 minute Mile barrier at recent meets. On Saturday, at the Philadelphia Catholic League Championships, he did it.
Martin became the first Pennsylvania high schooler to ever run a sub-4 Mile, crossing the finish line with a time of 3:57.98 at the championships, which were held at Cardinal O'Hara High School in Springfield. He is just the 14th U.S. high schooler to ever run a Mile under 4 minutes, also recording the fastest Mile in a high school-only competition (old mark, Jim Ryun's legendary 3:58.3 at the 1965 Kansas State Meet).
Martin's time is the fourth fastest outdoor time by a U.S. high schooler (#3 individual) and is the fastest outdoor high school time since 2001. Only two runners — Virginia high schooler Alan Webb (2001) and Jim Ryun (1965) from Wichita, Kan. — have run better outdoor high school times. Both Webb and Ryun were future Olympians and Mile record setters.
"It's crazy, I don't think it's set in yet," Martin told The Inquirer. "It started to set in during my cool-down run but it was a crazy feeling and I don't think it's fully set in yet. Just sitting back and realizing three years ago I had never run a Mile and the 800 [meters] was a long distance for me... but I never thought I would take it this far."
The senior had narrowly missed out on eclipsing the 4 minute mark last time out, running a Penn Relays record shattering 4:01.04 on April 29.
On Saturday, Martin ran away from the competition, as he usually does, finishing an almost unfathomable 20 seconds ahead of second-place finisher Zachary Brill of La Salle College High School (4:17.89). Martin said he knew early in the race he had a chance at history.
Continue reading at: inquirer.com
The U.S. high school sub-4 history listing HERE.