Furman Elite Adds Four Athletes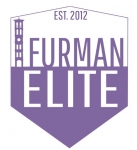 November 25, 2013
10 member training group includes Mile aces Jeff See, Cory Leslie and Jack Bolas
From Furman Elite
GREENVILLE, S.C. – After a summer of travel, adventure and racing, the Furman Elite 10 member roster is back in Greenville and gearing up for a jam-packed 2014 season. With six returners and four new faces, Furman Elite 2.0 is already hitting the trails and ready to roll.
The original Elite – Nicole Bush, Heidi Gregson, Jeff See, Cory Leslie, Jack Bolas and Lee Gilmer – are joined by Miler Michael Hammond and steeplechasers Wilkerson Given, Craig Forys and Stephanie Garcia.
In 2013, Furman Elite Milers produced a banner year. Cory Leslie won four Mile races including a North Carolina indoor state record 3:57.81 at the Carmel City Indoor this past February and a South Carolina state record 3:56.18 at the Blue Shoes Mile in April; Jack Bolas cracked 4 minutes three times hi-lighted by a 3:58.3 in Alaska last September, the first sub-4 in the country's largest state, and teammate Jeff See also clocked sub-4 three times including a 3:57.45 Blue Shoes Mile as runner-up. In addition, Leslie and Bolas set PRs in the metric Mile or 1500 meters in 3:34.93 and 3:35.84, respectively.
About Furman Elite
The mission of the Furman Elite, an elite post-collegiate club, is to provide continuing support to America's best distance prospects in an environment where athletic goals are rooted in long-term development planning and seamless transitions toward career milestones. Robert Gary, two-time Olympic steeplechaser and Furman head coach, is the training group's head coach.
For more information, go to: www.runfurman.com
Furman Elite Documentary from Jeff See on Vimeo.