Fullerton's Historic Sub-4 Minute Mile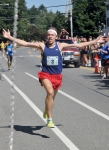 August 10, 2013
Bradford's Fullerton runs area's first ever sub-4 minute Mile...sort of
By Michael Muldoon, Eagle-Tribune
The clock said he did it. The race officials said he did it. The buzzing crowd saw him do it.
Only he didn't do it; at least not to track purists.
Bradford's Pat Fullerton ran a jaw-dropping 3 minutes, 58.8 seconds to win the 23rd High Street Mile last Sunday in Newburyport.
But unfortunately it's not a true sub-4 minute Mile unless it's done on a track. There are too many variables in a road race, the main one being running downhill at various points can a big advantage.
There are scores of road races but very few track races for post-college athletes. So an official sub-4 minute Mile, something no area runner has ever accomplished, might never happen.
"There is the potential to hop on the track and try to do it at Haverhill High or the North Andover track," said the 24-year-old former Haverhill High great, who was named the Stonehill College athlete of the year two years ago.
"I have a bunch of people to take video. It might happen. That's the only foreseeable way I could do it. I don't see myself going to Europe."
So close but so far and for a milestone which is easily the most coveted and most well known in the sport. Heading into this spring, a total of 396 Americans all-time had broken the four-minute Mile barrier, according to trackandfieldnews.com.
"I've always dreamt of it since I was a freshman in high school. It's frustrating to be in this shape in August instead of May or June (when there might have been some track opportunities)," he said.
Continue reading at: www.eagletribune.com