Four Minutes of Fame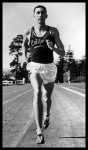 August 11, 1997
Remembering Don Bowden's U.S. milestone
By Brad Herzog, Sports Illustrated
When Roger Bannister first ran the Mile in less than 4 minutes, on May 6, 1954, he was hailed the next morning by The New York Times as having achieved "one of man's hitherto unattainable goals." The 4 minute barrier was not only physical but also psychological, and by cracking it with a time of 3:59.4, the Oxford medical student cleared the path for runners everywhere. Within three years, sub-4 minute Miles had been run 17 times by 11 runners. But not by an American.
It wasn't until June 1957 that a gangly 20-year-old Californian with economics studies on his mind, the half mile or 880 on his track agenda and only four competitive Miles under his belt became the first U.S. citizen to run a sub-4 minute Mile. But who remembers? Though he bolstered his nation's pride 40 years ago, Don Bowden remains little more than an afterthought in most running histories. Unlike Bannister, Bowden didn't become a household name.
Of course, if Bowden had had his way he would have been a football player, not a runner. But he was 6'3", weighed about 160 pounds and was nicknamed Stork. Lee Cox, the football and track coach at Lincoln High in San Jose, took one look at him and said, "Don, I don't want to have to scrape you off the field. I think I'd better make a track man out of you."
Bowden developed into a premier runner, setting a national high school record of 1:52.3 in the half mile at about the same time Bannister was running his famous Mile. Then it was off to study economics at the University of California, where he trained under track coach Brutus Hamilton and continued to dominate the half mile, setting an NCAA record of 1:47.2 in 1957. He never ran the Mile competitively in high school and did so only occasionally at Cal. "I had the speed to run the half mile," says Bowden, now 61 and the owner of a tennis-court-surfacing export business in San Jose. "The Mile took a lot more training, more endurance."
Continue reading at: sportsillustrated.com