Former Teen Mile Star Mary Cain Finishes First Race in 2.5 Years—and Wins It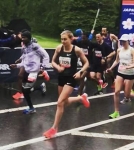 May 16, 2019
Healthy after persistent injuries, the 23-year-old broke the tape at the Japan Run 4 Mile road race in Central Park
By Hailey Middlebrook, Runner's World
On Sunday, May 12, a familiar face in the running scene came charging through Central Park: former high school phenom Mary Cain, who broke the tape at the NYRR Japan Run 4 Mile in 21 minutes, 50 seconds or just under 5:30 per Mile pace, finishing 4th overall.
The course was familiar to Cain, who lives in Manhattan's East Village and trains regularly in Central Park, but the act of racing itself was something she hadn't done in a long time.
"I haven't raced in two and a half years, so it was nice to get that monkey off my back," Cain told Runner's World. "My coach, John Henwood, and I sat down a few weeks ago and decided that this [race] would be something fun to start my year of racing. We just finished a rebuilding block of training, so we wanted to top it off with a hard effort."
Though she's only 23, Cain describes herself as an "old woman in the sport," since she entered the elite running scene at such a young age. While attending high school in Bronxville, New York, she set the high school freshman 1500 meter record of 4:17.84 in 2011. The teen went on to run 1:59.51 for 800 meters and 4:04.62 for 1500 meters outdoors, as well as a 4:24.11 Mile and 9:38.68 2-Mile indoors, and set numerous high school records at the state and national level.
Then in August 2013, at age 17, she became the youngest runner in history to make the 1500m final at the IAAF World Championships, where she finished 10th.
After Worlds, Cain signed a professional running contract with Nike before she even turned 18, and made her pro debut in January 2014. Following her high school graduation that spring, she enrolled in University of Portland in Portland, Oregon, where she joined the elite Nike Oregon Distance Project. Over the next few years, she was coached by Alberto Salazar, who started mentoring Cain remotely in 2012, when she was a high school junior.
"I felt a lot of pressure to get to a certain level in a certain amount of time," Cain said, referring to her decision to go pro as a high school senior. "It [the pressure] was mostly internal, though. I was lucky to have friends and family who were always supportive. It didn't matter to them how I raced."
Continue reading at: runnersworld.com