First Look at Unbroken with Angelina Jolie & Louis Zamperini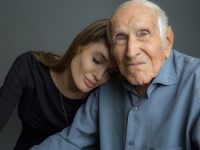 October 24, 2013
The release date for inspiring story of Miler, Olympian and World War II hero is Christmas Day 2014
By B. Alan Orange, MovieWeb
We're honored to share details on behalf of the Unbroken First Look image, featuring Academy Award winner Angelina Jolie alongside Louis Zamperini, that debuted recently. The high-res image can be seen here, followed by more information on this upcoming, highly anticipated drama.
Academy Award winner Angelina Jolie directs and produces Unbroken, the epic drama of the life of Louis Zamperini, adapted from Laura Hillenbrand's enormously popular book.
The project has a long history at Universal Pictures, which first acquired the rights to tell Louis Zamperini's life story in 1957, planned as a starring vehicle for Tony Curtis as his follow-up to Spartacus.
Angelina Jolie and Louis Zamperini, neighbors in the Hollywood Hills, have become close friends over the development of the film, as the filmmaker has listened to the war hero recount the incredible incidents of his life over many months of preparation.
Continue reading at: www.movieweb.com