Enter the BBTM Grand Prix Tour 2019 Fan Favorite Contest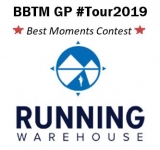 October 10, 2019
Win Tour presenting sponsor Running Warehouse $50 gift card and BBTM swag; enter today!
What were your favorite BBTM Grand Prix Tour 2019 moments? From the top 4 Tour "Mile Moments" of the Year per gender, your vote will help determine the top two Tour Moments. The winning moment athletes, who will be based on a vote of 50% fans, 25% presenting sponsor Running Warehouse and 25% BBTM, will be receive $500 each or $2000 overall.
From a random draw, 4 voting Mile maniacs will receive Running Warehouse $50 gift cards as well as BBTM swag. The contest, open to U.S. residents, closes on Sunday, October 13, end of day. Enter today, and good luck!
Per gender, pick your TWO favorite Tour 2019 moments. For a race summary, click on the Miler's name below.
More on Tour 2019 HERE.