Engels Out-Duels Friend & Mentor Centrowitz in USA 1500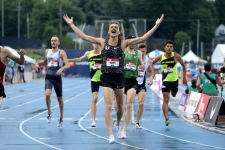 July 28, 2019
"Craig's a fun guy… obviously with his appearance, it's not your typical middle distance, distance running personality. I think it's great. He brings a different spin to the event and to the sport."
By Lincoln Shryack, FloTrack
When Craig Engels was weighing his professional options coming out of college in 2017, his biggest focus was joining a group that would allow him to train with the best runners in the world.
Fortunately for him, the Nike Oregon Project had an athlete at the time that happened to compete in the 1500 meters as well: 2016 Olympic champion Matthew Centrowitz. The chance to train with the Rio gold medalist made the decision easy for Engels.
"I joined because of him," the 25-year-old said three weeks ago at the Sunset Tour meet in California. "I joined because I wanted to train with the best people in the world in my event and he was the best person in the world in my event."
On Sunday at the 2019 USATF Outdoor Championships in Des Moines, Engels edged Centrowitz to win his first U.S. 1500m title.
Engels, mullet flowing and his confidence bursting from a spectacular 2019 campaign, held off Centrowitz by four one-hundredths of a second, 3:44.93 to 3:44.97. His last lap, an epic duel that came down to the last five meters between him and his former teammate, was clocked at 51.92.
Beating Centrowitz, who has been the standard-bearer of excellence in the U.S. 1500m for nearly a decade, was extra special for Engels because of the close connection the two shared in their days as training partners. Centrowitz left the group late last year and is now a member of the Bowerman Track Club, but the pair built a whimsical friendship that has persisted.
When told in an interview, three weeks back, that Engels' said he missed his friend since he left the Oregon Project, Centro joked, "Absolutely not. I don't miss him."
Continue reading at: flotrack.org
CREDIT: PhotoRun.net