Emily Beaver breaks joggling Mile world record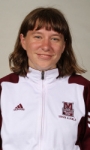 May 15, 2013
Guinness disqualified her earlier attempt because she ran 1600 meters not a Mile (1609 meters)
SPRINGFIELD, Mo. - They say life is about learning to dance in the rain.
Dancing in the rain is nothing. Missouri State's Emily Beaver sets world records in it.
Beaver, a senior distance runner on the Bears track and field team, broke a Guinness World Record for the fastest Mile run while "joggling" - running and juggling simultaneously - Wednesday evening, May 15 in rainy conditions at Plaster Sports Complex.
"I picked this day special, just to heighten the tension," Beaver said with a sly grin.
Beaver raced around the Plaster Sports Complex track four times while juggling three bean bags in 5 minutes, 58.17 seconds. That broke the previous record of 6:17, which was set in Baltimore, Md. on July 22, 1989 by Kathy Glynn.
Although the rain presented some challenges, Beaver said she was able to push through it without much trouble.
"I was really worried. At about 6:00 when it started pouring I was like, `Oh man, it's not going to work,'" Beaver said. "But it actually wasn't all that hard to juggle in, surprisingly. At first, it was blowing in my eyes, but after that, I didn't even notice it."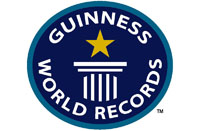 Beaver's attempt at the record was her second. She thought she had broken the record in her first attempt last September, when she raced to a time of 5:45. However, her time was disqualified by Guinness because she only ran 1600 meters, and a Mile is 1609 meters.
This time, she made sure to run the correct distance by starting nine meters back from the finish line.
Two timekeepers and two witnesses kept track of Beaver's time, which must still be verified by Guinness. However, Beaver said she's confident - and excited - about owning the record.
"Of course, it's up to Guinness to decide if I get in the book, but either way, I'll have a Guinness World Record," she said. "I will be the best in the world at something, which I think is quite an accomplishment.
"It's a fun thing to say."
Video at: www.wtvy.com