Elinor Purrier, UNH's most decorated athlete, begins her professional running career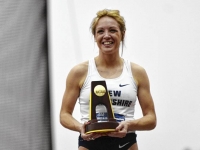 July 03, 2018
"Now it's a different atmosphere because it's my job. I think that a lot of things are going to change as a professional runner..."
By Nick Stoico, Monitor staff
After graduating in May as the most decorated athlete in University of New Hampshire history, Elinor Purrier turned pro by signing with New Balance. That's why the 11-time All-American was decked out in New Balance gear when she competed in her first pro race in June, the USA Track & Field Outdoor Championships in Des Moines, Iowa.
But if you took a close look at Purrier's hands during that race, you noticed three rings – two on her right hand and one on her left. She earned the jewelry by winning three America East championships with the University of New Hampshire women's cross country team, and she wears the rings to honor the people who have supported her along the way.
"The support from family and my teammates and my coaches, I wouldn't have been able to do anything without their help," she said.
Title chasing
Purrier, a native of Montgomery, Vt., became an NCAA champion in the Mile in March, a feat that eluded her the previous three times she qualified for the Division I indoor championships. Purrier placed 15th as a freshman (she was one of two freshman who qualified), improved to third as a sophomore and finished second as a junior.
This year, Purrier was poised to make one last run at the title. She shattered the UNH record in the Mile with a time of 4:26.55 at Boston University in February, beating the previous record (which she set) by almost three seconds and also producing the second-fastest Mile time in NCAA history.
At the NCAA Championships in March, Purrier captured the elusive crown in 4:31.76, just six one-hundredths of a second ahead of Colorado's Dani Jones. It was so close – the closest finish in the women's Mile since 1991 – that Purrier waited to celebrate until she saw the results on the videoboard.
"I wasn't really sure when I crossed the line if I had done it, so to see my name pop up first was so exciting," Purrier said. "I still smile thinking about it. It was a relief, I'm not gonna lie, that I finally did it. I felt like I needed to do that to prove it to myself."
Purrier's championship was the first ever for UNH Track & Field, and the university's first since the women's lacrosse team won an NCAA title in 1985. (The women's hockey team won a National Championship in 1998 as part of the American Women's College Hockey Alliance. The NCAA established a women's ice hockey championship a year later.)
Continue reading at: concordmonitor.com