Ed Cheserek Runs On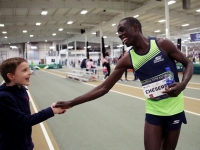 February 13, 2019
World class athlete facing frustrating, complex process to obtain U.S. citizenship
By Matthew Futterman, New York Times
For years now, nearly a decade, Ed Cheserek's path seemed obvious.
A gifted teenage runner from Kenya, he had become a high school sensation at St. Benedict's Prep in Newark, and then a star at the University of Oregon. A distance specialist, Cheserek could win races as long as 10,000 meters, or drop down and a run a sub-4 minute Mile as needed. Cheserek won 17 national championships at Oregon, and when he graduated in 2017, he was the most decorated runner in NCAA history.
His next move seemed clear. He would become an American citizen and represent the country in the biggest distance races and the biggest competitions the way other runners born in Africa — Bernard Lagat, Meb Keflezighi, Abdi Abdirahman — had done before him.
It has not gone that way, not yet anyway. Instead, Cheserek, now 25 and back in New York this week to run in the Wanamaker Mile at the Millrose Games, is caught between two countries, trapped in a dispute involving immigration law, specialized work visas and the strange question of just how elite a runner he can claim to be.
All this is unfolding as Cheserek evolves, trying to become the runner he has always wanted to be. Like plenty of other 20-somethings, he is learning that the path to what he wants is rarely as straight, or as simple, as it once seemed.
He has moved to Flagstaff, Ariz., where he trains at elevation alongside some of the best distance runners in the world. It feels like home, he said, but his application for a green card has been rejected. Even receiving a temporary work visa, something that seemed as if it would be simple given his elite skills, has proved difficult. His lawyer uses stronger words to describe the process: "arbitrary and capricious," though he said the difficulties went back to the years of the Obama presidency.
"All I can do is just keep running until they decide what they decide," Cheserek said in a telephone interview this week.
Continue reading at: nytimes.com