Eccleston, McDonald Triumph at HOKA ONE ONE Long Island Mile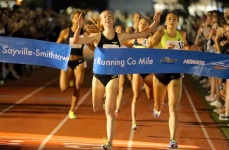 September 04, 2019
Third race title for Eccleston, McDonald clocks PR; nine men go sub-4 at 5th edition
From RunnerSpace.com
LONG ISLAND, N.Y. – A lively crowd, competitive fields and near perfect race conditions led to exhilarating finishes Wednesday evening at the HOKA ONE ONE Long Island Mile as Amanda Eccleston and Morgan McDonald kicked to victory in their respective Mile races at Bay Shore High School.
From the gun at the 5th edition, the rabbit Kenyetta Iyevbele shot to the front, but it was apparent early on that the field was content to run a more relaxed pace. While the rabbit ran hard to lead the field through in a quick 66 seconds, the entire field packed together and came through in 69 seconds.
Through the first lap Heather Kampf, Katie Mackey and 2017 race champion Emily Lipari led the way, while at 600 meters it was BAA athlete Lauren Johnson moving to the lead and pushing the pace a bit.
Johnson continued to lead as the runners came through the half way point in 2:19, while Kampf and Lipari in tow.
The third lap shaped the rest of the race. Johnson continued to set the pace, while Kampf, Eccleston, Mackey and Lipari ran off her shoulder, as the quintet separated themselves from the rest of the field. At the bell, the lead five remained the same, but it seemed only a matter of time before one of them made a more decisive move.
With 250 meters to go, Mackey shot past Kampf and Johnson, into the lead and started her drive towards the finish. Mackey led with Kampf and Eccleston on her heels as they rounded the final turn and as Kampf and Eccleston swung wide, they passed Mackey and it was a two woman battle with 100 meters to go.
Stride-for-stride Kampf and Eccleston ran, both looking as if they might have the edge with 50 meters to go, but it was Eccleston with one more burst of speed to pass Kampf and cross the finish, arms raised and a smile on her face. Eccleston ran 4:32.58 to Kampf's runner-up finish of 4:32.79. Eccleston, 29, earned her third race title (also 2015-2016).
Mackey charged home and hung on for a third place finish in 4:33.28, just ahead of Lipari and Angel Piccorillo, who finished fourth and fifth in 4:33.61 and 4:33.68.
Canadian Kate Van Buskirk finished sixth in 4:34.27, Eleanor Fulton took home seventh in 4:35.70, Megan Mansy placed eighth in 4:36.58, while Heidi See and Lianne Farber came home in ninth and tenth place in 4:37.49 and 4:37.56 respectively.
Continue reading at: https://hoka-one-one-long-island-mile.runnerspace.com
Watch the races on-demand on RunnerSpace HERE.