Eat Like an Elite: Ford Palmer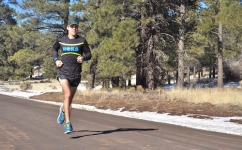 May 23, 2015
The 3:56-Miler packs protein into his vegan diet.
From Running Times
Ford Palmer, 24, set his Mile PR, 3:56.79, in February. The New Jersey-New York Track Club runner started a vegan diet after his college physician told him he had high blood pressure for a 20-year-old. Palmer also credits the film "Forks Over Knives" with inspiring his choices.
Breakfast
I couldn't tell you the last time I didn't have oatmeal. While the oats are boiling, I chop up a banana. Then I add a scoop of chunky peanut butter, a squirt of honey (I am not a hardcore vegan), and some granola. Five-minute meal.
Lunch
I make a similar quinoa dish everyday unless I'm going out to lunch with my friends. I cook the quinoa with cumin, paprika, and chili pepper seasoning. While the quinoa is cooking, I sauté onion, garlic, carrots, sweet potato, spinach, black beans, a can of diced tomatoes, and peanuts in a pan. Once you learn how to cook quinoa correctly, it trumps all other grains. I normally have an apple or orange on the side.
Continue reading at: www.runningtimes.com