East Bay runner Cooper Teare falls short of sub-4 minute Mile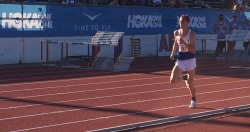 May 01, 2017
"He closed in 58.8 or 58.9, so he still had something left. But the early pace cost him."
By Darren Sabedra, The Mercury News
SACRAMENTO — The quest for history, the magical sub-4 minute Mile, continued Saturday for a Bay Area distance runner who is shattering records as he winds down his storied high school career.
Cooper Teare of St. Joseph Notre Dame in Alameda stepped onto the track at American River College at a little before 6:00pm and followed a pace-setter for the first two laps, as he had two weeks earlier in Southern California.
But the pace was too fast, at least on the first lap. The wind-sucking opening 400 at the Sacramento Meet of Champions was too much to overcome as Teare fell short of becoming the 10th high school runner in history to break the coveted 4-minute barrier, finishing in 4:01.29.
Continue reading at: www.mercurynews.com