Dyrol Burleson (1954-58) Lions' World Class Track Legend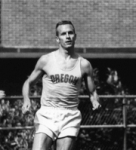 March 05, 2008
Two-time Olympian was first runner to break the 4-minute Mile barrier at the University of Oregon
By Jerry Thompson, Cottage Grove Sentinel
It all began with a magazine cover. As a 14-year old growing up in Cottage Grove, Dyrol Burleson saw a photo of Great Britain's Roger Bannister on the cover of Sports Illustrated , a magazine that had existed for less than one year. In 1954 Bannister became the first person to ever run the Mile under 4 minutes. Burleson's response to viewing the image of Bannister was, "I want to be on the cover of Sports Illustrated, and I want to run the Mile." Up to that point Burleson had no special interest in track or the Mile run, but he had decided on what he wanted to do for a career.
"When I was eight years old I went to the Redwoods with my brother," Burleson said. "I saw a park ranger on a horse and I knew I wanted to be a park ranger."
Burleson didn't forsake the park ranger ambition, but landing on the cover of Sports Illustrated became his foremost goal.
As an eighth grader, Burleson had gone out for track but hadn't excelled in any event.
"I did a little high jump and long jump, but wasn't all that good at anything ," Burleson remembers.
With the Bannister inspiration, Dyrol decided to try distance running. "When I first ran, I realized I could beat other people," Burleson said. "Chick, (CGHS track coach Wally Ciochetti) told me I ought to run cross country."
Continue reading at: cgsentinel.com