Clark, Van Der Wyk Win State Street Mile Titles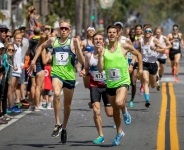 June 03, 2018
Event record 11 men go sub-4 minutes at the "fastest Mile in the west"; 19th edition draws 1,200 entrants; race proceeds go to Santa Barbara District Attorney's Crime Victim Emergency Fund
SANTA BARBARA, Calif. – On a beautiful sunny Sunday morning in downtown Santa Barbara, Connor Clark of Mill Valley, Calif. and Tracee van der Wyk of Temple City, Calif. captured State Street Mile titles in exciting finishes, clocking 3 minutes, 54 seconds and 4:29, respectively, on the gradual downhill point-to-point course.
"Our 19th edition drew 1,200 entrants and produced moments of pure joy and happiness for adults, kids and dogs," said race director Megan Rheinschild. "A huge thank you to all our sponsors, our volunteers, city officials and everybody who made this annual community event another great success."
In the men's HOKA ONE ONE Elite Mile, a large contingent ran together throughout most of the race, hitting the halfway point in 1:58. In the final 400 meters, Reid Buchanan of Mammoth Lakes and Craig Lutz of Santa Barbara pushed hard to the line with Clark right behind. With a final burst of speed, Clark, 23, broke the tape in 3:54, followed closely by Buchanan and Lutz, also timed in 3:54.
"I came into the race to break 4 minutes for the first time, and I waited until the end and kicked hard in the final 50 meters. In my first road race ever, it was an awesome experience to win in such a great atmosphere," said Clark, a Dartmouth graduate, who also ran cross country at Oregon last fall.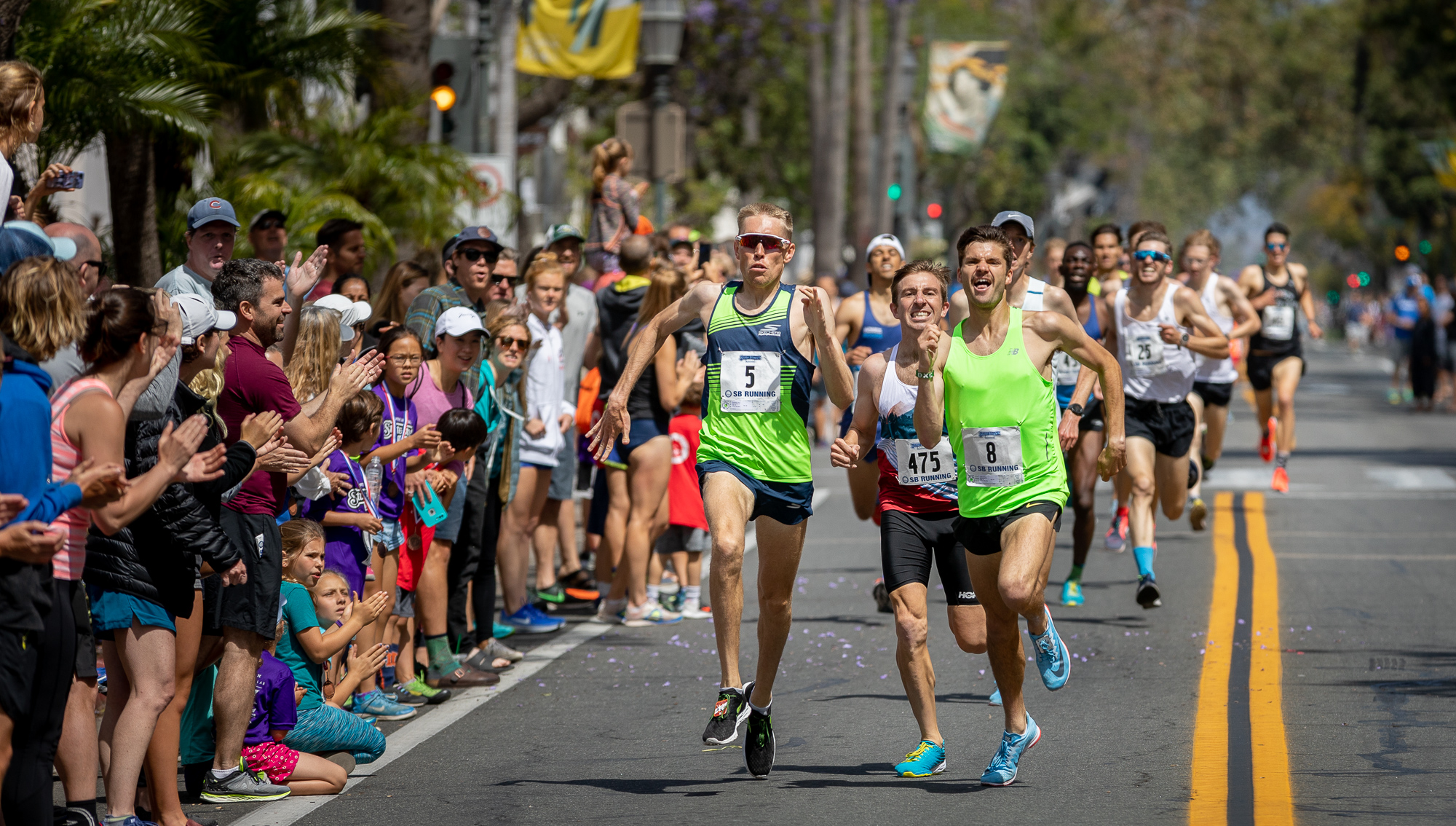 Photo credit: Fritz Olenberger
An event record 11 men went under the benchmark 4 minute standard (previous mark was 8 sub-4 last year). In addition, Neville Davey, 43, Palo Alto, Calif. ran 4:00 to equal the Masters (40 & older) course record that he set last year, and overall, the native of Ireland finished 14th in the Open field of 26.
The women's HOKA ONE ONE Elite race featured a trio – two-time Olympian Kim Conley (returning to racing from injury), Maya Weigel of Los Altos, Calif. and van der Wyk – contending for the race crown. Conley, who lives in West Sacramento, made a strong surge with 300 meters that van der Wyk answered, and in the final stretch, van der Wyk, 26, passed Conley for the victory in 4:29. Conley finished runner-up, one second back, with Weigel taking third in 4:33.
"My plan was to move at the last possible moment. I heard her coach say 'Go' at 300 meters and I followed Kim's move, saving something for a final sprint," said van der Wyk who also won the race in 2015.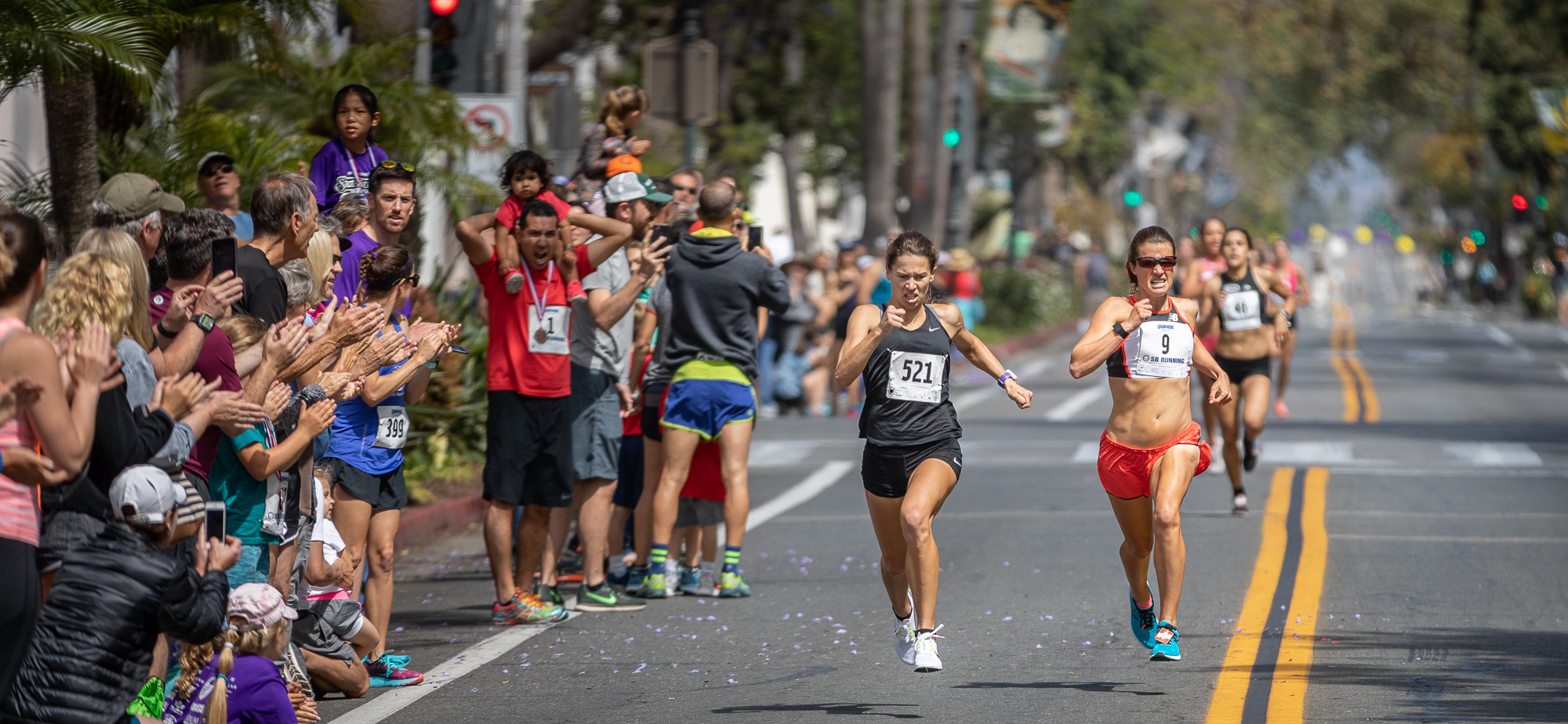 Photo credit: Fritz Olenberger
Each State Street Mile overall race champion also took home $1000.
In the Elite Masters-only races (40 & older), Brian Duff, 41, from Los Angeles defended his title in 4:25, and for the women, Aeron Arlin Genet, 50, from Los Osos, Calif. was the winner in 5:06.
The Amputee Mile presented by Achilles Prosthetics & Orthotics was won again by Andre Barbieri, 37, of Santa Barbara in 6:22.
At the always crowd-favorite Platinum Performance Dog Mile, the world championship, Geoffrey Gray & Hank (white Labrador) defended their title in 4:25 (the dynamic duo also won the race in 2014), while the female human-dog champions were Michelle Duff & Kaydom (Weimaraner), 5:28; both canines are also rescue dogs. Kaydom also won the 2016 race with Michelle's husband Brian (see above) with the pair recording a hard-to-believe 4:13, the fastest known human-dog Mile race performance ever.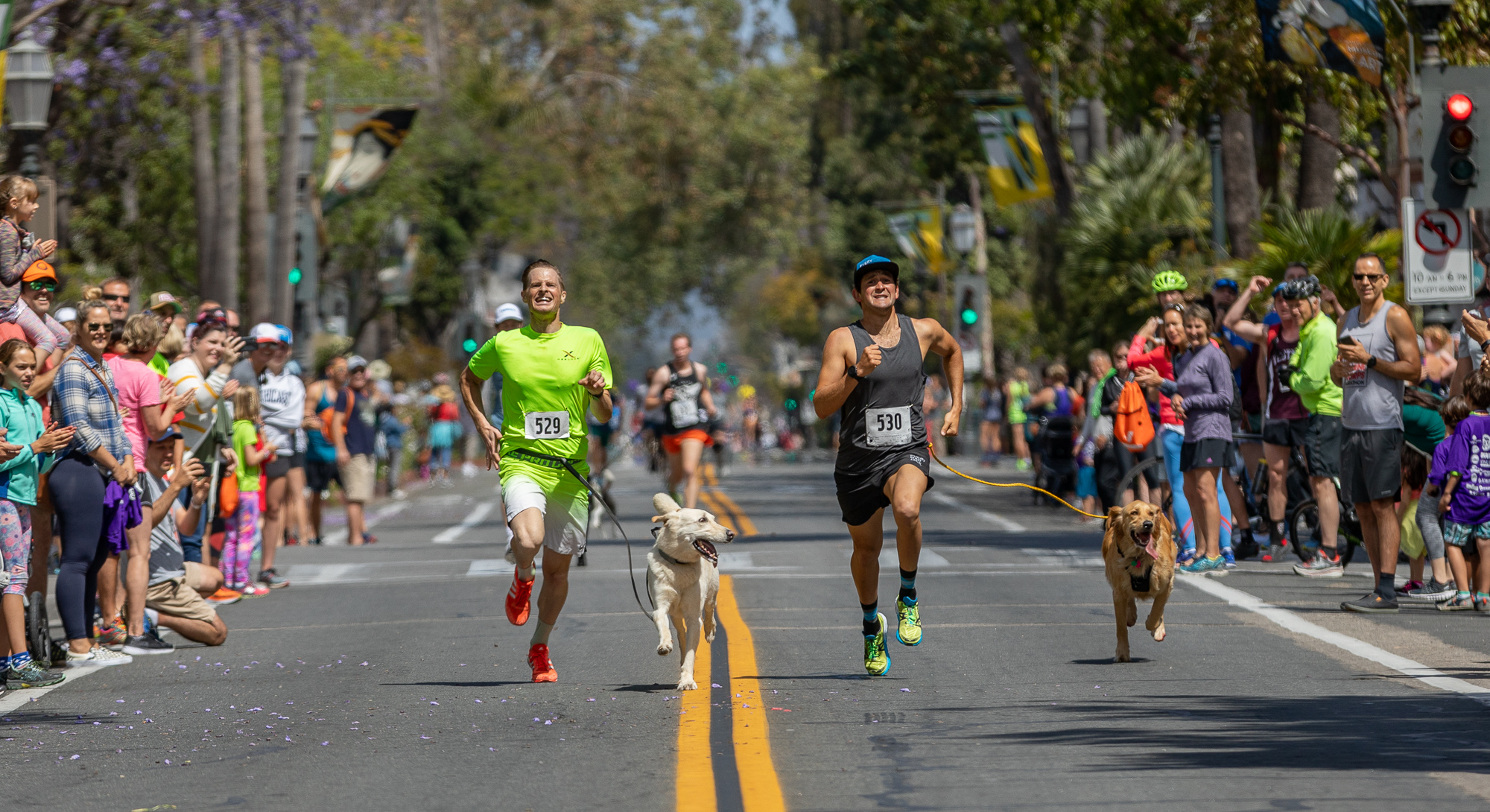 Photo credit: Fritz Olenberger
Two Division race records were also set by:
10 & under: Kate Mazza, 10, Los Olivos, CA, 5:44
20-29: Nate Evans, 24, Santa Barbara, CA, 4:13
Race day started with eight age group categories (10 & under, 11-14, 15-19, 20-29, 30-39, 40-49, 50-59, 60-plus) followed by the popular, untimed YMCA Family Mile, Amputee Mile presented by Achilles Prosthetics & Orthotics, Masters Elite Mile & HOKA ONE ONE Elite Miles and capped off with the not to be missed, tail wagging fun Platinum Performance Dog Mile.
A guaranteed Open prize purse of $5000 was awarded plus $1000 for a course record and a $100 Masters-only race course record.
All event proceeds will go directly to the Santa Barbara District Attorney's Victim-Witness Assistance Program's Crime Victim Emergency Fund.
The State Street Mile is also a Santa Barbara Athletic Association Grand Prix and Junior Grand Prix event as well as a Bring Back the Mile Featured Event, showcasing the best Miles in America and throughout the year.
19th State Street Mile
Santa Barbara, CA, Sunday, June 3, 2018

MEN
1) Connor Clark (CA), 3:54, $1000
2) Reid Buchanan (CA), 3:54, $750
3) Craig Lutz (CA), 3:54, $500
4) Austin O'Neil (CA), 3:56, $250
5) Jarrett LeBlanc (LA), 3:57
6) Derek Thomas (CA), 3:57
7) Trevor Halsted (CA), 3:58
8) Brock Moreaux (CA), 3:58
9) Aaron Potts (CA), 3:59
10) Dan Nestor (CO), 3:59
11) Matt Leach (CA), 3:59

WOMEN
1) Tracee van der Wyk (CA), 4:29, $1000
2) Kim Conley (CA), 4:30, $750
3) Maya Weigel (CA), 4:33, $500
4) Ayla Granados (CA), 4:37, $250
5) Chelsey Albertson (CA), 4:41
6) Weslie Pearce (CA), 4:44
7) Brittni Hutton (CA), 4:45
8) Courtney Moore (CA), 4:46
9) Kate Penney (AZ), 4:50
10) Emily Sanchez (CA), 4:57

MASTERS-ONLY MEN (40 & older)
1) Brian Duff, 41, (CA), 4:25
2) Circo Melendez, 47, (CA), 4:36
3) David White, 53, (CA), 4:39

MASTERS-ONLY WOMEN (40 & older)
1) Aeron Arlin Genet, 50, (CA), 5:06
2) Nancy Thomas, 48, (CA), 5:10
3) Jenn Patenge, 45, (AZ), 5:28

For complete results and more, go to: sbmile.com