Clark, Kampf to Defend Ryan Shay Mile Titles
July 18, 2013
Top Open fields expected at 10th stop on the inaugural Bring Back the Mile Tour; event honors legacy of Ryan Shay
CHARLEVOIX, Mich. - The 6th Ryan Shay Mile will take place in Charlevoix on Saturday, July 27 at 10:30am. Once again the spectators should be treated to a thrilling race to the finish with a deep men's field and a strong women's field. Daniel Clark and Heather Kampf will be returning to defend their titles, and with the current fields assembled, both course records, men's 3:55.9 (Jeff See, 2010) and women's 4:31.83 (Heather Kampf, 2012), could be broken on the fast downhill, point-to-point course.
The 2013 race is also the 10th stop on the 14-event inaugural Bring Back the Mile Tour, celebrating America's distance from sea to shining sea.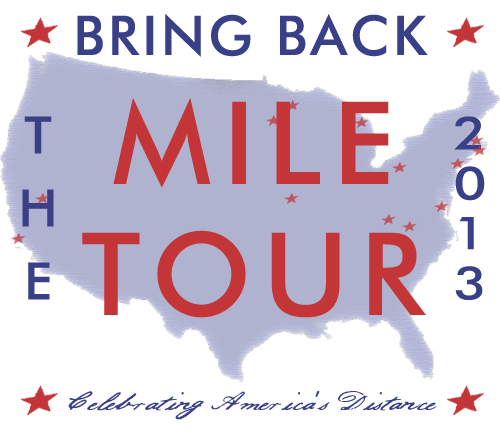 For Clark, it will not be an easy defense as he will be pushed by a men's field that has at least 10 sub-4 minute Milers (or the 1500 meter equivalent). Leading the charge to unseat Clark should be Liam Bolyan-Pett and Matthew Elliott. Boylan-Pett is a two-time Shay Mile runner-up and has recorded a time of 3:37 for 1500 meters in Europe this summer. The 2011 runner-up Elliott provided track & field fans with a surprising 4th place 1500m finish at this year's USA Outdoor Championships and he has hit a time of 3:37 for the 1500 in Europe this summer. But getting on the podium will not be easy as five others boast personal bests of 3:40 or faster for 1500 meters: Brian Gagnon, Tony Jordanek, Kyle Boorsma, Macklin Chaffee and Daniel Stockberger.
And it won't be any easier for the course record holder Kampf. Geena Gall, a 2012 London 800 meter Olympian, is returning to the Shay Mile after a runner-up finish in 2009. Kampf and Gall were both in the 800m final of this year's USA Outdoor Championships, and have set personal bests for the 1500 meters of 4:08 and 4:09 respectively this summer. Last year's runner-up Ashley Miller and Lauren Johnson with a Mile best of 4:33 should provide plenty of competition, along with Kenyan Chemtai Rionotukei this year's winner of the Grand Rapid's 25K Fifth Third River Bank Run.
The Open athletes will be vying for $4000 ($1000, $500 and $250 plus $250 for the leader at the ½ mile) in prize money provided by Bergmann Marine. This event provides elite middle-distance and distance runners with a competitive opportunity on the spectator lined streets of downtown Charlevoix in scenic northern Michigan.
Since its inception in 2008, this event has had numerous world class athletes participate. Past participants De'sean Turner (steeplechase), Ashley Higginson (steeplechase), Dot McMahan (marathon) and Jeanette Faber (marathon) will represent Team USA in the World Championships in Moscow this August, while Desiree Davila (USA, marathon), Geena Gall (USA, 800 meters) and Nicole Sifuentes (Canada, 1500 meters) all represented their countries at the 2012 London Olympic Games. Peter van der Westhuizen has represented his native South Africa at two World Championship meets. The inaugural men's winner Grant Robison ran in the 1500 meters at the 2004 Olympics for the United States.
The Ryan Shay Mile started in the summer of 2008 to honor the memory of Ryan Shay. Ryan passed away on November 3, 2007 while competing in the 2008 U.S. Olympic Marathon Trials in New York City. Ryan was from Central Lake, Michigan about thirty minutes south of Charlevoix. A talented runner, who through hard work and persistence, won championships in high school, in college while at Notre Dame, and in the professional ranks. Ryan was and is a role model for many young people in Northern Michigan and around the country.
Bergmann Marine, located in Charlevoix, Michigan, provides marine sales, service and storage facilities. This family owned and operated business spans three generations and has been providing service to Northern Michigan for more than twenty five years.
This event is part of Charlevoix's annual Venetian Festival, and in conjunction with the Drenth Memorial 5K & 10K road races on the same Saturday morning. Charlevoix is located in the upper northwestern portion of the lower Michigan peninsula.
MEN:
● Daniel Clark, Jackson, MI, University of Notre Dame, 2012 U.S. Olympics Trials - 1500m; 1500m 3:39; defending champion
● Liam Boylan-Pett, NJ/NY TC, Bath, MI, Columbia University, 2012 U.S. Olympics Trials - 800m and 1500m, NCAA All-American; 800m 1:46; 1500m 3:37
● Matthew Elliott, Brooks, Rock Hill, SC, Presbyterian College / Winthrop University, 4th at 2013 USA Championships 1500 meters; 1500m 3:37; Mile 3:57
● Brian Gagnon, New Jersey-New York Track Club, Lowell, MA, University of Connecticut, Big East champion, NCAA All-American; 800m 1:46; 1500m 3:38; Mile 3:57
● Tony Jordanek, Lexington OH, Kent State University, MAC champion 1500m; 1500m 3:38
● Kyle Boorsma, Speed River TFC, Guelph, ON, Canada, Guelph University, CIS Cross Country champion; 1500m 3:39
● Macklin Chaffee, Chagrin Falls, OH, Williams College, NCAA DIII All-American; 1500m 3:39; Mile 3:58
● Daniel Stockberger, Team Indiana Elite, Layafette, IN, Indiana University, NCAA All-American; 800m 1:49; 1500m 3:40
● Ben Hubers (CAN), Marietta GA, Indiana University, NCAA All-American; 1500m 3:41; Mile 3:59
● Frezer Legesse, Oklahoma City, OK, University of Oklahoma, All-Big 12, Big 12 DMR champion; 1500m 3:41; Mile 3:58
● Dey Dey, Thornton, CO, University of Arkansas, NCAA All-American 800m; 800m 1:47; Mile 3:59
● Matt Jurysta, Oshawa, ON, Canada, Drake University; 1500m 3:41
● Josh McAlary, Jackson, MI, Michigan State University, NCAA East Regional qualifier 1500 meters; 1500m 3:42; Mile 4:00
● Tony Filipek, Saginaw, MI, Saginaw Valley State University, NCAA DII All-American; 800m 1:49; 1500m 3:44; Road Mile 4:02
WOMEN:
● Heather Kampf, ASICS/Team USA Minnesota, Minneapolis, MN, University of Minnesota; 2012 U.S. Olympic Trials 800m (7th); 2012 USA Road Mile champion; 2006 NCAA 800m Indoor champion; 800m 2:00; 1500m 4:08; defending champion
● Geena Gall, Nike, Grand Blanc, MI, University of Michigan, 2012 Olympian 800 meters; two time NCAA 800 champion; 800m 1:59; 1500m 4:09
● Ashley Miller, Tipton, IA, University of Nebraska, NCAA All-American, Big 12 and Big 10 1500m champion; 800m 2:03; 1500m 4:11
● Lauren Johnson, Oregon Track Club Elite, Huntington IN, Huntington University, 3-time NAIA All-American; 1500m 4:11; Mile 4:33
● Chemtai Rionotukei, Kenya, 2013 25K Fifth Third Bank River Bank Run champion
● Shannon Osika, University of Michigan, Waterford, MI, NCAA All-American; Mile 4:37
● Sara Barron, Vanderbilt University, Oakland, MI, 1500 4:20; Mile 4:44
Visit www.venetianraces.com for more information.