Cito, Citius, Centrowitz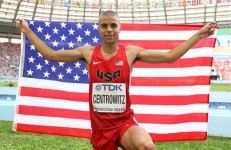 February 28, 2015
2015 goal to complete his set of World Championship medals with a 1500m gold in Beijing this summer.
From SPIKES powered by IAAF
He's got CITIUS (Latin for faster) tattooed on his right shoulder, and Matthew Centrowitz's 2015 season has started just like that. SPIKES caught up with the U.S. middle distance runner ahead of this weekend's USA Indoor Champs to talk chasing medals, chasing girls and his fear of flying.
In 2011, a fairly unknown 21-year-old Centrowitz burst on the scene with a bang when taking 1500m bronze at the Daegu World Championships. He had not been too prominent on the international scene during his junior years: a modest 11th place at the 2008 World Junior Championships had been his only previous appearance in a global final.
Since then, Centrowitz has firmly cemented his position at the top of the event. He finished fourth at 2012 London Olympics, missing out on a bronze by a mere 0.04 seconds. Then at the 2013 Moscow World Championships he added silver to his tally of medals.
Although 2014 was an "off-year" with no major global champs, the former University of Oregon student improved his PR by over two seconds with a 3:31.09 at the Monaco Diamond League. Now the 25-year-old has his sights firmly set on completing his set of medals with gold at the Beijing World Championships come August. And judging by his indoor season, he's on the right track.
Continue reading at: spikes.iaaf.org