Checking in with The Chairman, Legendary Miler Eamonn Coghlan Now Graceful Ambassador for our Sport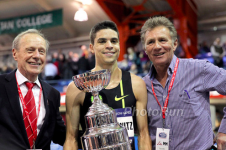 September 19, 2015
For most, Eamonn Coghlan is - and will be - remembered not only as a world record setting middle distance champion and indoor Mile artist with a devastating kick initiated with breath-taking acceleration, but also as one of track & field's most poised and gracious elder statesmen.
By Dave Hunter, RunBlogRun
Eamonn Coghlan has legendary status at the Millrose Games and Meadowlands. I remember watching him win the 1983 World Champs 5000 meters, and his elation on finally winning a global title. It was hard fought, as I had recalled him placing fourth in the 1976 Olympic 1500m and 1980 Olympic 5000m.
For me, watching Eamonn race in the Meadowlands in the mid 1980s on a Saturday night, then, racing the NYRR 20 Miler on Sunday, through the snowy Central Park, was a true highlight.
Here is an excellent piece on the Chairman of the Boards by David Hunter, who, we hope, has recovered from the jet lag brought on by two weeks in Beijing, China.
September 13th, 2015
Those of us who have followed track & field over the years need no prompting to recall the sparkling career and exceptional talent of Ireland's Eamonn Coghlan - the first 5000 meter world champion back in 1983 and one of the most fearsome Milers of all-time. Now living in his beloved Ireland, the world record setting middle distance great still is reminded of his exploits on the track.
"There is not a day in any week that goes by without somebody somewhere on the island of Ireland - whether it is north, south, east, or west, or whether I'm at work or whether I'm in the city, or whether I'm shopping or in a restaurant - bringing up track and always having nice things to say on where they were on such-and-such a day when I won...or lost," declares Coghlan, the first man to run a sub-3:50 indoor Mile.
Continue reading at: runblogrun.com