Checking in with The Chairman, Legendary Miler Eamonn Coghlan Now Graceful Ambassador for our Sport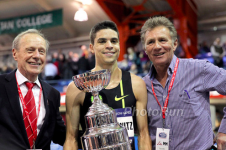 September 19, 2015
For most, Eamonn Coghlan is - and will be - remembered not only as a world record setting middle distance champion and indoor Mile artist with a devastating kick initiated with breath-taking acceleration, but also as one of track & field's most poised and gracious elder statesmen.
By Dave Hunter, RunBlogRun
Eamonn Coghlan has legendary status at the Millrose Games and Meadowlands. I remember watching him win the 1983 World Champs 5000 meters, and his elation on finally winning a global title. It was hard fought, as I had recalled him placing fourth in the 1976 Olympic 1500m and 1980 Olympic 5000m.
For me, watching Eamonn race in the Meadowlands in the mid 1980s on a Saturday night, then, racing the NYRR 20 Miler on Sunday, through the snowy Central Park, was a true highlight.
Here is an excellent piece on the Chairman of the Boards by David Hunter, who, we hope, has recovered from the jet lag brought on by two weeks in Beijing, China.
September 13th, 2015
Those of us who have followed track & field over the years need no prompting to recall the sparkling career and exceptional talent of Ireland's Eamonn Coghlan - the first 5000 meter world champion back in 1983 and one of the most fearsome Milers of all-time. Now living in his beloved Ireland, the world record setting middle distance great still is reminded of his exploits on the track.
"There is not a day in any week that goes by without somebody somewhere on the island of Ireland - whether it is north, south, east, or west, or whether I'm at work or whether I'm in the city, or whether I'm shopping or in a restaurant - bringing up track and always having nice things to say on where they were on such-and-such a day when I won... or lost," declares Coghlan, the first man to run a sub-3:50 indoor Mile.
After growing up in Ireland, Coghlan continued a long line of other promising middle distance stars who migrated from the Emerald Isle to Philadelphia's Main Line to further develop their Miling skills under the watchful eye of Villanova's legendary coach Jumbo Elliott. Coghlan easily recalls how the Ireland-'Nova pipeline got started. "The first one was a gentleman by the name of Jim Reardon. He was competing for Ireland in the 1948 Olympic Games," he notes. "Then we had John Joe Barry, Cummin Clancy, and Ronnie Delaney. And it continued on with Noel Carroll, Frank Murphy, Ian Hamilton, John Hartnett, and Donald Walsh before I arrived at Villanova." And with a smile, Coghlan - who has an encyclopedic memory - adds, "I can name them all!"
The Irishman's collegiate career got off to a rocky start. "I had a little hiccup with homesickness my first month out in the United States," explains Coghlan who first arrived on the Villanova campus in the fall of 1971. "So I missed out on the second semester. So I came back in September of 1972 and got going." And got going, he did. While running for the Wildcats, the young Irishman was the NCAA indoor Mile champion in 1975-76, the outdoor Mile titlist in 1975 and captured the 1976 outdoor 1500 meter crown. "The 1976 outdoor meet was at Franklin Field. I beat Wilson Waigwa, Matt Centrowitz [Sr!] and Steve Lacey, "recalls Coghlan with pride. "I remember all the races!' Also along the way, Coghlan re-set the Ireland national Mile record held by Hartnett - one of his fellow Villanova Irishmen.
His middle distance grooming at Villanova set Coghlan up well for the world stage which was to follow. Virtually unparalleled indoors, Coghlan combined his efficient stride - seemingly made for racing on the tight-turned indoor board tracks - with a devastating ability to change speeds to forge himself into an indoor powerhouse. In addition to setting world indoor record marks at 1500m and 2000m, the 7-time Wanamaker Mile champion broke the world indoor Mile record 3 times - the last time becoming the first man to break 3:50 in the indoors - a clocking of 3:49.78 which would stand as the global record for nearly 14 years. To-date, only three Milers [Coghlan; Hicham El Guerrouj (3:48.45) and Bernard Lagat (3:49.89)] have ever dipped under 3:50 indoors. How exclusive is the indoor sub-3:50 fraternity? Consider this: The number of different athletes who have broken 3:50 outdoors? 58.
A ruthless racer, The Chairman of the Boards had a signature move: his unbelievable acceleration. "It was something I worked on as a kid. I call that reflex speed. And that was having the ability to change gear within two or three strides. Before your opponents would know it: Bang! You're gone," Coghlan explains. "I practiced that from the time I was a young kid - doing drills coming off the last turn, the last 50, or the last 200 - and I would go from a long loping stride to a sprinter's style," offers the Villanova great whose lightning kick was well known to his fellow competitors as well as those who remember the zenith of Coghlan's career in the 1970s and 80s. "It was more of a mental switch than anything else. But physically, you followed with that. You just got away. You always had to have the extra gear." Coghlan not only had it. It was a weapon he knew how to use to his utmost advantage - especially indoors.
Continue reading at: runblogrun.com