Change Comes to New Balance HS Miles at NYRR Millrose Games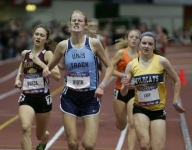 November 19, 2013
Twelve per gender qualifying from select Mile races and special invitation for 2014 event
By Tim Fulton, Armory Track
There will be new qualifying procedures for the New Balance High School Miles at the NYRR Millrose Games in 2014, including fewer automatic spots on the line during the season in an effort to expand the reach.
Twelve entrants will qualify or be selected for the Miles and all auto-qualifying will come from races held at The Armory during the 2013-14 season. Automatic entry will be granted to the winners of the Mile at the Hispanic Games (Jan. 4), the NYRR Millrose Games Trials (Jan. 15) and the New Balance Games (Jan. 25).
Winners of the Bishop Loughlin Games (Dec. 21) and the North Shore Invitational (Dec. 26) will receive a spot contingent on having run 4:20 (boys) and 5:00 (girls) at any point — indoor or outdoor — before Jan. 16, 2014. Otherwise those invitations become 'at large' bids.
For automatic bids, only the winner will receive an invitation. Subsequent places (second, third and beyond) will not slide up into auto qualifying spots if the runners in front decline the invitation or if they have already qualified.
Continue reading at: www.armorytrack.com