Champ Kampf returns to GNC Live Well Liberty Mile in Pittsburgh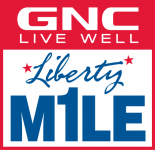 August 08, 2013
Jordan McNamara headlines men's field; downtown road race 11th stop on inaugural Bring Back the Mile Tour
By Karen Price, Pittsburgh Tribune-Review
Heather Kampf was passing the leader approaching the final lap of the 600 meter dash at the Big Ten Indoor Track Championship. Then she was flat on her belly.
But as quickly as it happened, Kampf was back up and running.
She passed the first runner on the final turn, then moved to the outside, gave a final kick and passed the other two to win with a time of 1 minute, 31.72 seconds, beating Jamie Dittmar by fractions of a second.
That was in 2008, but the race still follows Kampf, who will be back Friday evening to defend her title in the GNC Live Well Liberty Mile.
"I don't remember falling whatsoever," she said. "I remember my hands on the track and losing distance on the leaders, but it never registered that I was skidding on my stomach on the track. Afterward I was talking to my parents, and they kept saying, 'That was amazing!' and I said, 'Guys, it's not that big a deal.' But my dad had a video camera, and he said, 'You need to look at this because I don't think you understand what you just did.' "
Kampf, 26, is enjoying her finest season as a professional. She recently won and set the course record at the Ryan Shay Mile with a time of 4 minutes, 30.9 seconds and competed across Europe earlier this summer. She'll face competition that includes Geena Gall, who represented the United States. in the 800 meters at the 2012 Olympics, as well as USA 3000 meter indoor champion Chelsea Reilly.
Also returning is last year's men's runner-up Jordan McNamara. Nine runners capable of finishing in less than four minutes will be competing in the road race, which is part of the inaugural Bring Back the Mile Tour.
Continue reading at: triblive.com