Chairman Coghlan of the Boards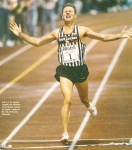 May 02, 2020
"I was able to go out on my terms by running the first sub-4 minute Mile at the age of 41. That was a big, big deal back in 1994."
By James McMahon, RTÉ Sport Journalist
From Drimnagh in Dublin to becoming a revered name in America for his exploits as an indoor runner, Eamonn Coghlan certainly made his mark.
In the 1970s & 80s, Coghlan lit up the Wanamaker Mile at Madison Square Garden, with a record seven victories. They could have called him the 'King of the Boards' - instead they went for 'Chairman of the Boards'.
One race to pick out was Coghlan's historic indoor Mile world record of 3:49.78 set in 1983. It would last for 14 years.
There were disappointments, however, for the Dubliner. At successive Olympics Games in 1976 and 1980, he placed fourth in the 1500m and 5000m respectively. He had to wait before finally conquering all as an outdoor competitor when securing 5000m gold at the 1983 World Championships in Helsinki.
On the Wednesday Legend slot on 2fm's 'Game On', Coghlan looked back on his career - a time when life was simpler and when Irish athletes certainly made a significant contribution in athletics.
"It was a pleasure to bring so much joy to so many people," he said.
"The journey for me began in 1971 when I finished secondary school and went to Villanova University. There was no internet at the time, but I started competing and the races were live on TV in the States. Back in Ireland I think you got highlights on ITV.
"There were less distractions, it was a great time for me and a great time for track & field. There was a tremendous interest in the sport. You had great personalities in Seb Coe, Steve Ovett, John Walker and Thomas Wessinghage. Before that in Ireland you had Ronnie Delany, right through to Marcus O'Sullivan and Sonia O'Sullivan.
"Irish athletes were performing at the highest level and whether it was New York, Toronto, Dallas, Los Angeles or London, the Irish, more so than any other nationality, came out to cheer us guys on. It was great to be competing at the highest level on a consistent basis.
"I was lucky to be winning a lot and getting cheered on a lot."
Continue reading at: rte.ie (includes full audio interview)