Celebrating 60 years since Jim Beatty ran the first indoor sub-4 minute Mile, a record by the book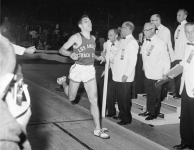 February 09, 2022
"'I want to be that person and I want an American to do it.'"
By Scott M. Reid, Orange County Register
On an autumn day in 1961, Jim Beatty, the world's top-ranked Miler, was on an easy run in Los Angeles, slowly returning from an injury.
It was one of those solitary runs runners sometimes have when you don't so much follow a prescribed path as chase your thoughts, the compass of your mind leading you to unexpected places.
This run would point Beatty, a 1960 Olympian, toward 3939 South Figueroa, the Los Angeles Sports Arena, and a history-making day in the winter ahead.
It had been nearly eight years since Roger Bannister became the first man to run a Mile in under 4 minutes, a feat often compared to the first summit of Mount Everest by Edmund Hillary in 1953. Five men had gone on to lower Bannister's world record, but no one had broken the 4-minute barrier indoors.
"For some reason, the light went on and I said to myself, 'The light has come on for somebody to be the first person to run an indoor Mile under 4 minutes,'" Beatty recalled. "I kind of went through my mind about two, three, four people who might be able to do that. But the more I thought about it, I thought, 'Well you can break a world record and be the first accidentally or you can plan to do it.
"'I want to be that person and I want an American to do it.'"
Later that day Beatty shared his vision with Hungarian coach Mihaly Igloi.
"Do we have enough time to get into peak shape for the indoor season?" Beatty asked.
Igloi closed his eyes behind his horn-rimmed glasses in apparent deep thought and then opened them.
"We have time," he said.
He closed and re-opened his eyes again.
"We will do it on February 10 at the LA Times Indoor Games," Igloi said.
Thursday, Feb. 10th marks the 60th anniversary of Beatty running the first sub-4 minute Mile indoors at the Sports Arena and a race that a Sports Illustrated headline at the time proclaimed "History on The Boards."
Beatty's 3 minute, 58.9 second clocking was, as Bannister's record had been in 1954, front-page news around the globe, recognition of the sport, and especially the Mile's, place of prominence on the national and international landscape at the time, and the magnitude of the performance.
With a standing-room-only crowd and a national television audience for ABC's "Wide World of Sports" watching, Beatty crushed the indoor world record, knocking 2.5 seconds off the previous global standard set by Ron Delany of Ireland and Villanova in 1959, a reduction that has not since been equaled.
"Beatty's performance at Los Angeles has not yet been fully recognized for what it was – the outstanding performance by an American middle-distance runner this century," Delany, the 1956 Olympic 1500 meter champion, said a few days afterward.
More than a half-century has not diminished the significance of Beatty's run. His success along with the emergence of the first in a string of world class runners under Bill Bowerman at the University of Oregon would launch a golden era in American middle- and long-distance running that would see U.S. victories in the 5000 and 10,000 meters at the 1964 Olympic Games in Tokyo and Jim Ryun, the boy wonder out of Kansas, shattering world records at 880 yards, 1500 meters and the Mile. The '60s in turn would pave the way for Dave Wottle and Frank Shorter's Olympic triumphs in 1972, and Steve Prefontaine, the record-shattering rebel who, nearly 50 years after his death, still captivates the sport.
Beatty's record also further validated the controversial training methods of Igloi, who had defected to the U.S. after the 1956 Olympic Games in Melbourne and the Soviet Union invasion of Hungary.
"Tabori always used to say, 'Trust the old man,'" Beatty, now 87, recalled, referring to Laszlo Tabori, the former world 1500 meter record holder and third man sub-4 who had followed Igloi from Hungary to the U.S.
Continue reading at: ocregister.com
Indoor Mile world record progression HERE.
Full video of Beatty's historic, thrilling Mile race shown on ABC's Wide World of Sports