Catching Up with Jim Spivey: Part 3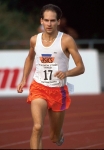 November 15, 2006
1985-89: Sub-3:50 Dream Mile, World 1500m bronze and 2000m AR
In 1985, he was crowned U.S. 1500m champion again, and but was not ranked in the world's top 10 by Track & Field News. He was holding his own, and doing okay financially, but was still a good way from earning a medal on the world stage.
But just six years after cracking 4 minutes for the Mile, the following year, 1986, saw Jim take his running to a new level. Steve Scott, the U.S. record holder at the Mile, won the U.S. 1500m championships in Eugene, but when Jim went over to Europe for his summer track campaign, he set his sights on breaching another huge barrier.
Held in Oslo, Norway, The Dream Mile, the blue ribbon event of the prestigious Bislett Games track meet, was, twenty years ago, and arguably still is, the highlight of the European season for any world class Miler. The world record had twice been set there, including the previous year's 3:46.32 clocking by Britain's Steve Cram. A 1:48.1 time trial over two laps two weeks earlier suggested Jim was ready to do something special. Oslo's Bislett Stadium has a mystique about it. It's like the European Hayward Field. It has increased in size now, but back then the stadium only held 18,000 people, the track only had six lanes, and the stands were within a foot of the outside lane. A spectator could easily reach out and touch a runner running in lane six.
"It feels like the crowd is right on top of you," Jim says. A 4-feet wall separates them from the runners. Metal billboards hang on the front of these walls, colored with advertisers' logos and products. Children lean over the walls and use their hands to bang out a metronomic rhythm as the runners go by. Parents, behind, them play back-up percussion, clapping at a steady rate. "It is so loud," Spivey recalls, "that you cannot hear yourself think or breathe when you race."
The race starts late, at 11:15pm, to accommodate live TV viewers in the U.S. The runners mill about on the home stretch near the start line. Finally, they are called to the line, and silence briefly falls on the rabid Norwegian track fans, until they, and the runners, are released with the crack of the starter's pistol.
Spivey remembers the race very vividly. "My game plan consisted of starting fast, so as not to get left in the heavy traffic at the rear of the pack." With a swift opening half-lap, Spivey moved into fifth position, out of trouble. "Coming up on the first lap, the rabbit pulled us through a 55-second opening 400. Down the backstretch we flew, the crowd urging us on by increasing their clapping rate as we went by. We came through the 800 meter mark in 1:54, close to world record pace." At that point, Cram made his bid for victory, pushing on ahead and gapping the pack.
"I could hear the crowd's claps begin to diminish as I went by, because I was still in fifth place. The claps were following the leader, not me. I knew I had to move up, not only to close the gap on Steve, but also to stay in the applause vacuum." The visualization of effortlessness running in this space gave Jim the motivation to move up. "I moved into 2nd with 700 meters to go. Again, down the back stretch we flew. Glancing to my right, the crowd whizzed by, faces a blur. Truly, it felt like flying. No pain, just effortless running."
Around the turn and into the next straightaway, the gun sounded, indicating the final circuit was about to be completed. Jim's three-quarters split was 2:53.2, his fastest ever in a race. Through the curve the crowd roared with approval. "On the back stretch, I felt myself closing on Cram, and the adrenaline began to rise. 'I can win this race!' I thought to myself, and then cautioned myself: Don't get too excited. You need to maintain form and relax!'"
With 200 meters to go, Jim felt someone nearby on his inside. Steve Scott went by. "I put my head down and tried to go with Scottie, but he continued in his mad pursuit of Cram." The Brit was fading from his long drive for victory. "A hundred meters to go, and my body was losing oxygen rapidly. I looked up the straight. I could hear nothing but the crowd. I was becoming disoriented, and had tunnel vision. Only my lane, lane two, and the two lanes on either side, were clear; everything else was a blur. I kept telling myself, 'Hold the form!' 'Keep your feet straight.' The finish line is quickly approaching... oh come on, come on! Finally, a quick lean and it was over."
He walked a few strides past the finish line, with 50-60 kids jumping all over him to get his autograph. Slowly, his senses began to normalize, but his mind and legs were still swimming in lactic acid. "It really hurt," he remembers. "It must have been under 3:50, because this is how it should feel," he figured. But did he? Did he break 3:50 for the Mile? His PR was 3:50.59. He was having problems signing my name, his brain still lacking oxygen. "I signed each one, very slowly. I'm sure the kids must have thought I was never taught how to write."
Jim found his sweats and jogged off to cool down alone. About a half-mile later he came to a halt. "I went down to one knee, tears streaming down my face. I looked at my watch. 12:30am. The practice track was almost deserted. I asked, "Lord, what did I do to receive such wonderful talents?" The tears fell heavier now. I thanked Him many times." Jim knew he had run the race of my life, but the question resurfaced in his clearing mind: What was the time? Jim picked himself back up, smiling now, and finished his jog.
Back at the hotel, the results were posted. He quickly scanned down to third place. He saw the first two digits – a three and then, after the colon, a four. He didn't need to know the next number. He had run under 3:50! He looked skyward, said a 'thank you' and then looked at the results a second time. His time was 3:49.80. He had sliced three quarters of a second off his PR, and had become the 13th man in history under 3:50, and the 3rd fastest American of all-time. "Even today," he says, "I can remember that feeling of kneeling on the warm-up track at Bislett, and my eyes get moist."
Jim wrapped up that '86 campaign with a 3:52 Mile in Rome in September. 1986 was a good year. Track & Field News ranked him 9th that year, one spot ahead of his teenage idol, John Walker. Scott ranked third.
After the 1986 season, Jim made some big changes. He switched coaches, from Sam Bell to two-time Olympian Mike Durkin, changed agents and began working with a new agent, the late Kim McDonald. He and Cindy also moved house, to Glen Ellyn. All these changes occurred within an 8-week period. That kind of upheaval will often see a tightly-wound elite athlete come apart at the seams, but these changes would yield a year that would unfold to be even better than the stellar '86 campaign.
Durkin, who made the Olympic team at 1500 meters in 1976 and 1980, began writing Jim's daily training in March, and Ken Popejoy, a former Michigan State stand-out who was aiming to be the first Master to run a Mile in under 4 minutes, became Jim's training partner. One of the biggest changes was an increase in mileage and greater emphasis placed on aerobic development.
Under Coach Bell, Jim had relied far more heavily on his speed and, remarkably, Jim had never run over sixty minutes before, in his life. Durkin wanted him to run ninety. "I didn't like it," Jim recalls. "The first time I tried to run 90 minutes, I got to 60 and couldn't believe that I would have to keep on running for another 30 minutes."
He got used to it, though, and having Ken run with him, relating stories of when he was ranked ninth in the U.S. at the Mile, of when he roomed with Prefontaine, and of his adventures at Michigan State, helped Jim get through those long runs on the Illinois Prairie Path in the cold Chicago winter. "It certainly helped having a rabbit and training partner," Jim recalls, "and also made me better at being on time!"
The track workouts were different too. Under Bell, many of Jim's workouts were flat out, faster than race pace, but under Durkin everything was slowed down and more controlled, and more volume was added, sometimes totaling seven miles of hard running. Durkin's training philosophy borrowed from that of legendary Hungarian coach Mihály Iglói, and was more about levels of perceived exertion than hitting concrete goal times. And in the middle of winter in Chicago, where Mother Nature often didn't facilitate fast clockings, that was a good thing. It was more about running fresh, good and hard paces – terms with which Spivey's coaching protégés would become very familiar a few years down the road. Jim wouldn't run for a specific time until the last two months of the season. If, in March, he was supposed to run 800s fresh and hit 2:16, it was okay. If the weather was better, and he felt good and hit 2:10s, that was fine too. Each workout was a block in a long building process, each week building on the previous one, with a view to peaking in August. And peak in August he did.
A steady diet of 70-mile weeks in the first half of 1987 saw Jim stronger than ever, and a 38.9 closing 300 to win the USA Championships 1500 over Scott in June in San Jose indicated he wasn't lacking in the speed department either. At the Pan Am Games he won a silver medal in the 1500m, being beaten only by Brazilian Joaquim Cruz, the reigning Olympic 800m champ.
In Rome at the World Championships, the heats were on Thursday, the semi-finals were on Friday, and the final was on Sunday. Three races in four days. In L.A, three years previously, Jim had felt shattered by the time he lined up for the final, but as the 12 finalists lined up for the final on Sunday in Rome's Olympic Stadium, Spivey was a much stronger and much savvier runner. He had done as little as was necessary in the first round heat, and then placed 2nd, right behind East German Jens-Peter Herold in the semi.
"Mike had said to be with the leaders with 300 to go, no matter what," Jim recalls. From 500 to go to 300, the leading trio of Cram, Somalia's Abdi Bile and Jose-Luis Gonzalez of Spain were a half-second up. Spivey was in 4th with Kenya's Joseph Chesire in tow. Jim covered those 200 meters in a sizzling 25.3 to get into medal contention, and yet he lost ground on Bile, who ran 24.9! Bile was in a class by himself that day and pulled away for the gold with ease. The Spaniard ran strongly to get the silver, while Spivey's big kick around the last turn saw him catch a fast-fading Cram with 80 meters to go to move into 3rd place and claim the bronze medal.
Shortly after the 1500m final in Rome, Jim flew to Switzerland to take a stab at Sydney Maree's American record at 2000 meters. It's a rarely contested distance, but the record was far from soft. Maree's 4:54.20 mark was set two years before. On a balmy evening in Lausanne, Steve Scott towed Spivey and Bile through the Mile marker in a speedy 3:54.2. Bile swept into the lead, but failed to shake Jim and he outkicked the World Champ to win in 4:52.44, hacking almost two seconds off Maree's mark to set an American record that stands to this day. Another great ending to a great year.
If he could have had his time over again, Jim says he would've switched coaches sooner, maybe right after the Los Angeles Olympics. "At age 25, you need someone watching you. At age 31, either you do it or you go home." And he should have changed agents earlier, he concedes. "In 1985 Kim [McDonald] approached me about being my agent, and I said 'no, I'm with Pete Peterson' (of Nike). But a year later, when I approached him, he said 'let me think about it.'" In the span of a year, McDonald had gone from being a rookie, scraping together a living while working out of a tiny room above the Sweat Shop, a specialist running store in southwest London, to being arguably the top track agent in the world. "Knowing what I knew later in life, about how he did business, I should have switched right away because, under him, my income tripled."
1988 rolled around and the 3:49 Miler, World Championship medalist and U.S. record holder over five laps, was licking his chops at the prospect of getting an Olympic medal in Seoul. Winter training under Durkin had gone well, and Jim, stronger than ever, looked like a good bet to climb the medal podium in Seoul.
Just a week after nailing one of his best ever workouts in April - 9 x 800 meters in 2:02-2:07 - Jim noticed a sharp, localized pain in his shin. He was diagnosed with a stress fracture in his left fibula. It would be the only stress fracture he would get in his life, but the timing could hardly have been worse. Just as he was about to start adding speedwork to a fantastic aerobic base, he was sidelined.
Jim was told to train 4 weeks in the pool; unable to run until May 27. That left just six weeks of running until the Trials. The first week, he was so despondent, that he didn't go to the pool at all. The next week he went every other day. The third week he went twice a day, trying to play catch-up, fighting a losing battle against the calendar. "I should have been in the pool from Day One," he admits, "but I was discouraged and, looking back, depressed."
When Jim was finally able to start running, he felt like all the fitness he had attained over the winter and early spring had just evaporated. "I came back out and couldn't break 37 seconds for 200 meters." Worse still: after 3 or 4 days of running that same lower leg started bothering him again. "I remember limping back from a run literally close to tears and sitting on the stairs up to my front porch. I took off my shoes and looked at my left shoe and realized the air pocket had blown out at the side. It was a defective shoe, and I wondered how long had it been like that. That's how I got hurt." Jim was discouraged, but at least he had an answer. He got out some new shoes and set about what he knew would be an uphill battle against time to even get to Seoul, let alone medal.
Figuring the aerobic miles were still in the bank, Durkin had him do a series of hard 600 meters time trials to assess his charge's anaerobic shape. Five weeks before the trial, Jim ran a pedestrian 1:42. It felt flat out! He went home exhausted, telling Cindy "it's never gonna happen." Five days later, he clocked a 1:31, and another five days later he coasted to a 1:25, feeling great, like his old self.
As the summer season began to unfold in Europe, Seb Coe had yet to show any form (and would, in a highly controversial decision, be left off the team for Seoul) and Steve Cram was beginning to be dogged by the calf injury that would eventually end his career. The door was seemingly left wide open for Jim if he could duplicate his form from the previous summer.
Jim hopped over to Europe to sharpen up and ready himself for the rough 'n' tumble of Olympic Trials racing. A 3:50 Mile at Bislett and a 7:48 3000m in Gothenburg buoyed his confidence, and then, back in the States, a 1:47 clocking for a low-key 800 in Chicago let him know that, physically at least, he was firing on all cylinders again. But Jim is a perfectionist, who likes to stick to a plan like glue. The fact that his plan had gone awry at a crucial time, and he had lost four weeks of running to the stress fracture, weighed heavy on his mind as he drove down to Indianapolis for the Olympic Trials in early August.
"When I got to the Trials, physically I was ready, but mentally I wasn't. I doubted my shape." Jim made the final without incident, but didn't feel good after the semi-final race. In a sit 'n' kick affair, the searing last lap had sapped his legs and he was feeling tired going into the final the next day.
In the final too, the early pace was pedestrian opening up the race to anyone with a decent kick. An even-paced, fast run would have left Jim with few serious rivals, but the opening half was practically glacial, and Durkin and Spivey never really had a pre-race game plan for if that happened. They were too busy trying to get Jim to the starting line in one piece, physically and mentally.
With 500m to go, Spivey was free on the outside, perfectly positioned to cover anyone's move, but as they approached the bell, he tripped. Either on Tim Hacker's or Jeff Atkinson's foot; he's not sure. But he stumbled, and dropped back to 8th place before regaining his rhythm; still close but no longer in a poised striking position. And when everyone started kicking on the last circuit, Jim had to kick even harder just to get back in the race. He went from 8th to 3rd down the back stretch. With 200m to go Jim had an Olympic berth seemingly locked up, but halfway down the home stretch, it became apparent his big move just to get back in the race had left him with no gas in the tank as they came off the last turn, and another former Indiana Hoosier, Mark Deady came past him, nabbing third 0.24 seconds ahead of Jim. Ahead of them, new kid on the block, Jeff Atkinson, was a surprise winner, with Jim's perennial rival Steve Scott in second. Deady didn't have an Olympic qualifying time, so there was still a chance Spivey could make it to Seoul, but Deady went over to Europe and punched his ticket for Korea, hitting the standard (3:38.50) in Hengelo. Jim Spivey would not be going to Seoul.
All that remained for Jim - ironically, Deady's landlord at the time - was the opportunity to race the clock, take some scalps, and make some dough in what remained of the European racing season.
Not making it to Seoul was painful enough for Spivey, but when began to round into extraordinary shape in the late summer, it added salt to that wound. On August 28, in Koblenz, Germany, Spivey lined up for a 1500 meters. There were two rabbits in the field: Lewis Johnson (he of Olympic commentary fame) was slated to rabbit for the first two laps, with Ken Washington (now an agent) taking over. In Johnson's slipstream, with Washington beside him, Spivey cruised through 800 meters in 1:51 - world record pace. Johnson peeled off and Washington assumed the lead. "I remember yelling 'Go faster' at Ken at 1000," says Spivey. They had gotten to that point in 2:20. Washington, spent, went another half-dozen steps before realizing he could no longer help his countryman.
When he approached 1100 (2:35), Jim was thinking to himself, he was going to let it rip, "but as soon as I entered the last circuit," he recalls, "I heard a voice from the inside." He fakes an English accent – "Jim, just relax!" It was 2-time Olympic 1500m champion, Sebastian Coe (who had already won the 800m earlier in the night, clocking 1:43). "I remember thinking 'he's been here before. He knows what this is like.' If it was my coach, I wouldn't have listened, but he knows that this is what I have to do. So I relaxed, instead of tightening up, and I ended up clocking 42 seconds for the final 300m." Spivey clocked a jaw-dropping 3:31.01, shattering his PR and topping the world list for the year. Jim celebrated by getting personalized license plates for his Nissan 300ZX that read: JCS 331.
Despite the 3:31 clocking, Nike, who had been Jim's shoe sponsor since 1984, when they gave him a $12,000 per year initial deal, told him they were essentially dropping him at the end of the year. It wasn't good news, and Jim was upset. Nike offered Jim a contract, but it was 83% less than the previous year's deal. "If that's all I'm worth to you," he told Nike, "I'll go to ASICS [who had earlier courted him] for no money." ASICS had already offered Jim a contract after the U.S. Champs the previous year, but Jim told them he was still under contract with Nike until the end of 1988.
"We can talk then," he told them. "With hindsight, it probably wasn't a very smart decision," he says. "When you're hot, you make the pancakes, but I felt a loyalty to Nike." But when his contract was up, Jim wrote a letter (this was before faxes were widely used and way before e-mail) to the man in Japan, whose business card he had kept. But he never heard back.
Eventually, he did get a response, but ASICS were now reluctant to speak with him – after all he hadn't even made the Olympic team! They offered him a deal with no money, and limited equipment. The silver lining was that, whereas with Nike there had been a different boss controlling the budgets and writing the shoe contracts each year, with ASICS, Jim had the same go-to person, Jan Lester, year after year. There was stability, and Jim needed some of that, because the next few years were going to be a rough ride, economically, for an aging Miler who had failed to get to the last Olympiad.
In 1988, despite not making Team USA, Jim made more than $100,000 between his Nike deal and racing, and commanded $5000 in appearance money at some of Europe's bigger meets.
But in 1989, still with a gear-only deal at ASICS, Jim made just $16,000 racing. He ran a 3:34 1500 in Europe, but he could barely pay the bills at home, despite being ranked by Track & Field News as the country's third best Miler.
Final, Part 4 HERE.