Catching Up with Jim Spivey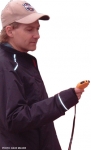 November 15, 2006
By Dave Milner, Tennessee Running
I am riding shotgun in Jim Spivey's car, a white Volkswagen Passat in whose back window one of this three son's has fingered the message 'Clean Me.' The rear seat is chock-full of ASICS uniforms bound for local high school cross-country runners. Attached to the rear view mirror is a stopwatch. Spivey uses it to take splits. Not his running splits, or anyone else's for that matter. He uses it to note his driving splits.
This is a man who is, by all accounts, obsessed with times, positions, and statistics; a man so meticuluous in nature that he is rumored to time himself mowing the lawn. Ask him how long it takes to drive from, say, Nashville to Chattanooga, and, rather than give you a guesstimate, Jim will give you his PR to the minute, and if you exhibit enough interest, you might get his intermediate splits at the Murfreesboro and Monteagle exits too! For almost a quarter-century, Spivey kept detailed training logs with splits to the tenth of a second. Pick a day - any day - between 1977 and 2000 and Jim can tell you where, how far, and how fast he ran, who accompanied him, and what the weather was like that day. But it is this attention to detail, this meticulousness, this obsession with time that contributed to such a lengthy and successful world class running career.
Pop quiz time. Who was the last American male distance runner - at 1500 meters and up - to medal on the track at a major outdoor championship? Yep. That's right, the gray-haired fella in the ballcap here; the one holding the stopwatch; the one that, until a few months ago, lived right here in Tennessee for the last four and a half years. And many of you didn't even realize that you had a miling legend on your doorstep.
Jim Spivey is, by any objective measure, one of the best middle distance runners that the United States has ever produced. After running for Indiana University, where he was twice an NCAA champion, notched a staggering thirteen Big Ten conference titles, and was inducted into the school's athletic Hall of Fame, Jim went on to qualify for three Olympic Games. Twice at 1500 meters, a distance at which he placed 5th in 1984 and 8th in 1992, and then at 5000 meters in 1996, when he advanced to the semi-finals.
In World Championship competition, he won the bronze medal in 1987 and was fifth in 1993. He has run 3:31.01 for 1500 meters - the third fastest all-time by an American, 3:49.80 for the Mile - good for 6th on the all-time list, and he still holds the U.S. record at 2000 meters.
Continue reading at: http://www.tnrunning.com