Carlos Villarreal preparing for first sub-4 in Tucson attempt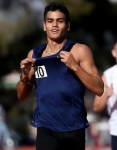 March 23, 2020
"I'm just running about 60 miles a week and taking it easy right now... we'll do most of our faster stuff off the track over the next few weeks."
By Greg Hansen, Arizona Daily Star
One final sports event remains in Tucson this spring, one that could be historic.
Sometime in May in what UA All-American Carlos Villarreal refers to as "my Senior Night," he plans to become the first ever to break the 4-minute Mile in Tucson.
Here's how he described it on Twitter: "Me on the track. Coach with a stopwatch. That's it."
Thirteen Wildcats have recorded a sub-4 minute Mile, but never in Tucson. Four-time Olympian George Young was the first, and oldest first time sub-4 to-date at 34, running a 3:59.6 in 1972 in Los Angeles, while BYU's Paul Cummings ran a 3:56.4 at ASU in 1974, the state record.
After Young's 1972 performance in LA, the 12 sub-4 Wildcats who followed were, in order: Ed Arriola, Thom Hunt, John Quade, Matt Guisto, Aaron Ramirez, Marc Davis, Martin Keino, Abdi Hassan, Jonah Maiyo, Robert Cheseret and Lawi Lalang. And now Villarreal, who has three times broken 4 minutes, with his best being a classic 3:56.77 in the famed Wanamaker Mile at the Millrose Games last month in New York.
His other two sub-4s were indoors in Seattle.
Tucsonan and two-time Olympic medalist Bernard Lagat, a former UA volunteer distance-running coach, has broken the 4 minute Mile, numerous times, as has Salpointe Catholic High School grad Andy Trouard, who twice broke the 4-minute barrier while becoming an All-American at NAU. Trouard is training in the 5000 meters for the still-scheduled U.S. Olympic Trials in late June in Eugene, Oregon.
Continue reading at: tucson.com