Cain's able beyond her years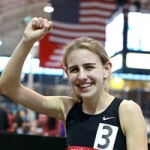 June 21, 2013
Teenage runner on record-breaking pace competing at USA Outdoor track championships
By Philip Hersh, Chicago Tribune
DES MOINES, Iowa — Among the first words out of Mary Cain's mouth Thursday was "Moscow."
That said it all.
Here was Cain, having just run her first-ever race at the USA Outdoor Track & Field Championships, and getting to Russia's capital for the World Championships in August was foremost in her mind.
Such a preoccupation is widespread at this meet, where results will determine the U.S. team for the worlds.
What makes Cain's emphasis on it striking is she is less than two months past her 17th birthday and a rising senior at Bronxville (N.Y.) High. What makes it more than idle talk is she has been running so well it would be no surprise to see her get the top-three finish in the 1500 meters that would put her on the world team.
"She has gotten the times to say Moscow was one of her dreams," two-time Olympic finalist Shannon Rowbury said.
This year, Cain has become the greatest women's high school middle-distance runner in U.S. history. She has set U.S. high school and Junior (19 & under) records in the indoor Mile, 3000 meters and 2 Mile; the outdoor 800 and 1500; and a high school record in the 5000. She has broken two minutes in the 800 (1:59.51) and Suzy Hamilton's 26-year-old U.S. Junior record in the 1500 by 4 1/2 seconds with a world class 4:04.62.
Thursday, in the 1500 semifinals at Drake Stadium, she finished a close second in 4:11.48 to new training partner Treniere Moser (4:11.20), both easily advancing to Saturday's final.
They faced the media together and completed some of each other's sentences, each bubbling over with an enthusiasm that made it hard to know which was the teenager.
"She is doing something no one has ever done," said Moser, 31, a three-time USA 1500 champion. "Just being a fan of track and field, I'm happy to be along on this journey … to be kind of an insider and see exactly what she is doing."
Cain's precociousness has sparked comparisons to Mary Decker Slaney, a world-beater at 14 who went on to a long and star-crossed career that included titles in the first outdoor world championships at 25. There is another link: Alberto Salazar, the final coach of Slaney's career, has become Cain's coach in an unusual, made-for-the-21st-century arrangement that began last summer.
Continue reading at: http://www.chicagotribune.com