Burns Looking for More Record Action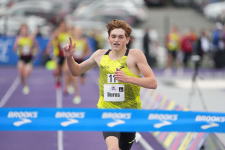 May 23, 2023
His next goal and it's a big one. He's returning to St. Louis, the scene of his first sub-4:00, to take a stab at Alan Webb's longstanding HSR of 3:53.43
By Jeff Hollobaugh, Track & Field News
On the one hand, Connor Burns (Southern Boone County, Ashland, Missouri) says he felt like he was "just floating" for most of the 5000 at the On Track Fest. On the other, it took everything he had to hold it together on the homestretch and break Galen Rupp's High School Record with a 13:37.30.
Burns had been thinking about going after Rupp's 13:37.91 mark from 2004 for a while: "Last summer, when I was thinking about my goals — I didn't really talk to anybody about it — I was thinking, 'Well, I ran 3:58. I know I'm in really good 2 Mile shape now,' or I was at the end of the season. So yeah, I figured, 'If I keep progressing, it's pretty possible that I can go for 5K and 2 Mile national records this season.' That's kind of where I started. And then, after some really good workouts in the winter, I was pretty confident coming into it."
That's what brought Burns to California for the second time this season, though he Is still quite unhappy with how his early-April trip to Arcadia panned out. He went there hoping to do some damage to the all-time 8-lap list, and ended up finishing 4th in 8:41.67m. "It was weird, because I felt good going into it, felt I did all the right things and then just had an absolutely horrible race. It was a pretty bitter flight home after that. The goal was definitely not to run 8:41 out there."
At the Track Fest, Burns found himself in the second section of the 5000, and says, "I went out, the plan was just to stay glued to the rail for as long as possible, just conserve as much energy as I can, and then be prepared to let it loose the last few laps and close it down."
Running with indoor HSR holder Tyrone Gorze in a field of pros and collegians, the 18-year-old says, "I got out — I kind of got manipulated around to the back of the pack. Me and Tyrone were bringing up the rear pretty much for most of the race.
"There was a point where the group we were behind was kind of separating, so we both moved to cover the gap. There was a group up front going for 13:20, and we were in the group a little behind them. And then our group started to slow down to 66s at one point, which I could feel. I really didn't want to lead, so I didn't do anything, but it was a little frustrating when it was going slow.
"We went through the 2 Mile and I saw the clock at 8:46 and I just couldn't believe how good I felt. I felt like I was just doing a fast tempo. It was surreal; I was just floating out there. Then with 1200 to go, Tyrone made a move and I followed him. And then 800, I was like, 'Alright, I gotta go.' I saw I needed a 2:04 to get the national record. I started going pretty hard at 700 and again at 300.
"I think I punched it a little too hard at 300, because I was rigging pretty hard on the homestretch, the last 50m or so. I barely got in under the record."
He had replaced Rupp's name with his own on the record list with 0.61 to spare, finishing 5th in a race won by Belgian John Heymans in 13:16.88. Gorze crossed 10th in 13:45.81.
For Oregon-commit Burns the race was just one more milestone in a promising career. Last year as a junior, he set a national 11th-grade record with his 3:58.83 in St. Louis at the Festival of Miles.
He is coached by his father, former Missouri XC coach Marc Burns, who is a volunteer assistant at Southern Boone. The situation, he says, "works out great for our relationship."
In a family with both parents as runners, Burns started the sport as an elementary student. "I knew I was going to be a runner someday," he says. Along the way he played soccer, baseball and basketball, but the other sports faded away by the time he finished middle school as a 4:51 runner.
He showed real improvement his sophomore year, when he went from 4:44.56 at 1600 during '20 to 4:10.07 for the Mile in '21. He attributes the jump to consistent training. "Good things come out of it."
Continue reading at: trackandfieldnews.com