Bring Back the Mile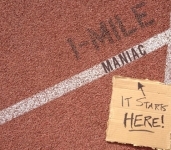 May 16, 2012
By Brett Hoover, Armory Track
Yesterday at a student career fair in Indianapolis, I ran into Scott Williams, an All-American and Big 10 champion while at Indiana University.
"Scott," I said. " A Columbia kid ran a 3:35 last night!"
After an ever brief pause, Williams responded, "Wow. That's like a 3:52!"
Ever appropriate, this conversation with conversion happened on the 47th anniversary of Jim Ryun becoming the first high schooler to break the four-minute Mile.
But you'd think that, well, the mile only means something to Boomers, you know? Folks who were born while John F. Kennedy was alive.
Until I watched an interview with Kyle Merber — who ran the time — on RunnerSpace.com and he had the exact same thought as Williams.
Reliving the moment, Merber said afterward, "I didn't have it in perspective yet until I realized the Mile conversion. I guess the American — you know, you always think, 'What's your Mile time?' Once I realized, 'Whoa, that's a 3:52.' Then I thought something just happened."
Continue reading at: armorytrack.com