Brenda Martinez's USATF Indoor Championships title made all the sweeter after career's rocky star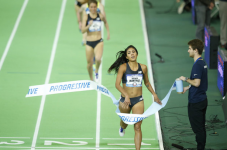 March 14, 2016
Martinez's first national title win in 4:08.37 was a breakthrough moment, a victory that validated her sacrifices to start her pro career and broke the spell of second place that stuck with her career since the 2009 NCAA championships.
By Andrew Greif, The Oregonian
The prevailing sentiment of the USA Indoor Track & Field Championships was that of a shrug.
Athletes who didn't perform their best had a built-in, and not untrue, explanation: All that matters is preparing to qualify for this summer's Rio Olympics.
For those who did, celebrations often were muted. Qualifiers face a quick turnaround for next weekend's IAAF world indoor championships, which begin Thursday.
But Brenda Martinez and Cory McGee, the winner and runner-up of the 1500 meters at Saturday's USA Indoor Track & Field Championships?
Positively ecstatic.
"I'm on top of the world right now," McGee said after finishing second in 4 minutes, 9.97 seconds to secure her second world championships appearance for Team USA. "I like to win, but this is the happiest I've ever been being second."
Continue reading at: www.oregonlive.com