Brenda Martinez takes the world's fastest interview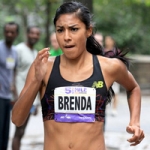 October 21, 2013
Mile legend Seb Coe would be one of her three perfect dinner guests
By SPIKES Magazine
Under the intense pressure of SPIKES' super quick interview, we find out that the USA's world 800m bronze medallist Brenda Martinez loves Amy Winehouse; could have been a police officer; and really fancies picking Haile's brain before doing the marathon…
If you could star in a different event what would it be?
"The marathon."
What is your motto?
"I always say, 'bleed for coach.' As in, give it all you have."
What did you have for breakfast this morning?
"My mum cooked for me today, and gave me green chilli with eggs and tortilla."
Continue reading at: http://spikes-mag.tumblr.com