Brenda Martinez Getting on the Right Track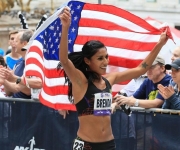 June 20, 2013
Former UC Riverside star who will compete at the USA Championships is blossoming into a force as a professional; working with renowned coach Joe Vigil
By Michelle Gardner, San Bernardino Sun
Brenda Martinez admits she was overwhelmed at all the decisions she had to make coming out of UC Riverside three years ago. There were basic decisions such as finding the right coach and a suitable training location. Then there were more complicated issues like securing a sponsor and an agent.
There were definite hits and a few misses. But with the right support staff in place now, the Rancho Cucamonga native has emerged as one of the fastest-rising middle distance stars in the sport. She will compete in the 800 meters at the USA Track & Field Championships, which begin today in Des Moines, Iowa.
The top three athletes will qualify for the World Championships in Moscow in August. Martinez, 25, is ranked second in the world, so she appears to have a good chance at one of those coveted spots.
"All the hard work is finally paying off," she said. "There have been a lot of sacrifices and it seems like it took a long time to get to this point. But I feel good about how things are going now."
It has indeed been a long road for Martinez, who rewrote the UCR record book during her All-American tenure there.
It didn't long to land a sponsor in New Balance, with whom she signed a more lucrative five-year extension in January.
Continue reading at: www.sbsun.com