Brenda Martinez gets historic 800 bronze at World Championships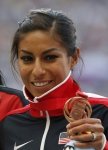 August 18, 2013
U.S. women finish third, fourth and sixth in 800 meter final in Moscow
By Helene Elliott, Los Angeles Times
Brenda Martinez of Rancho Cucamonga on Sunday became the first American woman to win a medal in the 800 at the outdoor World Track & Field Championships, using a late kick to finish third at the Luzhniki Stadium track in Moscow on the final day of competition.
According to USA Track and Field, the UC Riverside alumna was eighth at 200 meters and seventh at 400 meters but managed to find her way through traffic to make another of her late pushes toward the finish line. Martinez, who trains in Big Bear and is coached by Joe Vigil, finished in a personal record 1 minute, 57.91 seconds, behind Eunice Sum of Kenya (1:57.38) and Mariya Savinova of Russia (1:57.80).
Alysia Johnson Montano, the five-time U.S. champion in the 800, was the early leader and was timed in 56.06 seconds at the 400 meter mark. However, she finished fourth in 1:57.95. Ajee Wilson, 19, of Neptune, N.J., placed sixth in 1:58.21, an American Junior record.
Martinez, who talked about her medal hopes here before the competition, said she was jittery before her race on Sunday.
"I had to really calm my nerves. I knew it was probably the biggest race of my life," Martinez told USA Track & Field's website.
"I just wanted to give everything I had. Again I had to go by 58 [seconds] and stay relaxed. On that last turn I really had to dig deep. I saw everyone around me. I knew that last 100, I had to give it everything I had."
U.S. athletes won five medals on Sunday for a total of 25 in the competition, comprised of six gold, 14 silver and five bronze.
Continue reading at: www.latimes.com