Bolas, Grunewald Headline Grandma's Minnesota Mile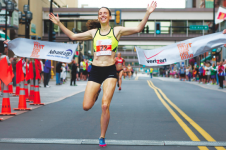 September 10, 2015
The 9th edition, with a $20,100 prize purse, is the finale of the Bring Back the Mile Grand Prix Tour 2015; final GP positions and prize money will be decided in downtown Duluth on Sunday, September 13
From Grandma's Marathon
Whether you want to take a leisurely stroll through the heart of historic downtown Duluth or you've always wanted to see how fast you can run a Mile – the Grandma's Minnesota Mile is ONE FOR ALL! The discounted early registration fee of $20 is available via online registration at www.grandmasmarathon.com until 11:59pm on Friday, September 11. Late registration is in the main lobby of the Fitger's Brewery Complex (600 E Superior St) from noon to 6:00pm on Saturday, September 12 and 7:00am to 8:30am on Sunday, September 13. The late registration entry fee is $30.
The Minnesota Mile offers a unique opportunity for runners to secure a spot in next year's Garry Bjorklund Half Marathon, as 250 finishers will be randomly selected to receive guaranteed entries into the 2016 half marathon on June 18. Registration for the half-marathon opens October 1.
A premier class of one-Mile runners is assembled for Sunday's race. The ninth edition includes an elite division that features a $20,100 prize purse with the men's and women's winners each receiving $3000, respectively.
The Minnesota Mile is also the fourth and final stop on the 2015 Bring Back the Mile Grand Prix Tour. The total prize purse for the four Tour events exceeds $80,000 plus a $7500 for the Grand Prix purse. Per Tour event, per gender, the top 6 will score points (10, 8, 6, 4, 2 and 1) with the top 4 Grand Prix scorers earning GP prize money ($2000, $1000, $500 and $250). The final Grand Prix positions will be decided at the Minnesota Mile with the exception of first place for the women's division, which has already been secured by defending champion, Heather Kampf, who will not be competing in this year's Minnesota Mile.
Team USA Minnesota's, Gabriele Grunewald, is the top contender in the women's division of Sunday's race. Grunewald, 29, of Minneapolis, smashed the Minnesota Mile course record in 2013 running her personal record time of 4:21.3 – the fastest Mile ever run by a woman in Minnesota. Grunewald will be challenged on Sunday by Jamie Cheever (Seattle, Wash. – PR, 4:37.2) and Monicah Ngige (Kenya – PR, 4:39.4).
Cheever, 28, a former Team USA Minnesota runner, set her personal best time of 4:37.2 at the 2014 Iowa State Classic despite racing with a torn labrum. She was 6th place in the 2012 and 2013 Minnesota Mile. Ngige, 21, set her personal best time of 4:39.4 in June at the Monumental Mile in Indianapolis, Ind.
On the men's side, Jack Bolas returns to defend his Minnesota Mile and Bring Back the Mile Grand Prix Tour titles. Bolas, 27, of High Bridge, N.J. is in a tight race for the top spot in the BBTM GP Tour, but will clinch the crown if he places first or second on Sunday.
In August, Bolas won the inaugural Boxcar Mile in West Chester, Pa. in 3:58.63. Bolas set his Mile personal best of 3:53.5 at the 2013 Minnesota Mile – the third fastest time on the course.
Other contenders include 2015 Ryan Shay Mile runner-up Lex Williams (Ann Arbor, Mich. – PR, 3:57.3) and Ethiopian Diriba Degefa Yigezu (PR, 3:54.1 – 4th fastest Minnesota Mile time).
Sunday's races begin one block east of Fitger's on Superior Street and finish one-block past the Holiday Center. In addition to the elite race, the event includes races for children, recreational and semi-elite runners.
The Minnesota Mile is sponsored by Holiday Stationstores, Advantage Emblem & Screen Printing, Duluth Running Company, Duluth News Tribune, ESPN Radio 560 WEBC, Fitger's, Fitsok, Holiday Inn & Suites, KBJR 6 & Range 11, Super One and Verizon Wireless.
For more information, visit GrandmasMarathon.com or call (218) 727-0947. For more on Bring Back the Mile and The Grand Prix Tour, visit: www.bringbackthemile.com
Elite Division - $20,100 Purse
Open Division – Men & Women
1st Place: $3000
2nd Place: $2000
3rd Place: $1500
4th Place: $1000
5th Place: $800
6th Place: $600
7th Place: $400
8th Place: $250
Masters Division – Men & Women (40 & Older)
1st Place: $500
For more information, visit: www.GrandmasMarathon.com