Blankenship records fastest Mile in Alaska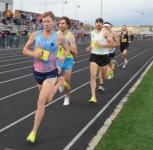 September 16, 2017
Racing in cold and rainy conditions in Kodiak yields third sub-4 in 4 days
By Alaska Dispatch News
The Great Alaska Miles Series wrapped up Saturday in Kodiak, where 2016 Rio Olympic runner Ben Blankenship ran the fastest Mile recorded in Alaska.
Blankenship, of Eugene, Oregon, topped a field of elite runners with a time of 3 minutes, 57.85 seconds.
"I think @benfblankenship's 3:57 today may be the the fastest Mile on Alaska soil by either human or sled dog," tweeted fourth-place Kyle Merber after the race.
It was the second time in four days that Blankenship cracked the 4-minute mark on an Alaska track. On Wednesday at West High, he was one of two men who broke the barrier — Merber won in 3:59.36, Blankenship right behind in 3:59.67.
Blankenship's Saturday time eclipsed the indoor time of 3:58.3 registered in 2013 by Jack Bolas of Washington, D.C. Until this week, Bolas was the only man to run a sub-4:00 Mile in Alaska.
Continue reading, includes race results, at: adn.com
Alaska State Mile Guide HERE.