Blankenship, Mackey Take Falmouth Mile Titles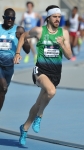 August 10, 2013
Ten U.S. men go sub-4 minutes; 12th stop on the nationwide inaugural Bring Back the Mile Tour 2013
By Chris Lotsbom, Race Results Weekly
FALMOUTH, Mass. -- The 2013 Falmouth Mile proved exciting once again here at Falmouth High School on Cape Cod. Americans Ben Blankenship (3:56.27) and Katie Mackey (4:41.39) earned $2000 a piece with their wins under the lights.
BLANKENSHIP LEADS 10 MEN UNDER 4:00
Blankenship sure is happy he chose to run the Falmouth Mile here on Saturday night. Coming away with the victory in 3 minutes, 56.27 seconds, the 23-year-old was elated and a bit surprised.
"Biggest celebrity in the world right now," he said with a joking smile, posing for pictures with fans after the twilight win.
Ten days ago, Blankenship said he wasn't even considering racing the Mile, held at Falmouth High School's James Kalperis Track on the eve of the New Balance Falmouth Road Race. Asked by his manager, Stephen Haas, if he wanted to take part in the event's 19th running, Blankenship originally said "no."
"I said no, I really didn't want to run. My season kind of went like shit all year," he told Race Results Weekly, explaining the situation. "After a few workouts last week I felt really good about it and I came out and ran well."
Ran well indeed. After pacesetters Cas Loxsom and Danny Stockberger stretched the field out over the first kilometer, Blankenship sat back behind fellow Americans Andrew Bumbalough, Garrett Heath and 2012 race champion David Torrence. At the bell, the field were just shy of three minutes, beginning to bunch up for the final push home. That's when things got interesting.
First Heath surged, then it was Torrence making a move on the backstretch. With 200 meters to go, Blankenship sat on the pair's outside shoulder; seconds later, the University of Minnesota graduate took over just as he saw daylight open up.
"I kinda just kept moving up," said Blankenship. "I found a really good open slot and just held on for dear life."
Powering down the homestretch with the standing crowd cheering, Blankenship only looked back once to see where Will Leer -- who went from fifth with 200 meters to go to second on the homestretch -- was as the two approached the finish.
In the end it was Blankenship edging Leer, clocking 3:56.27 to 3:56.45.
Continue reading, including race videos, at: www.runnerspace.com