Blankenship, Grunewald Added to Medtronic TC 1 Mile Field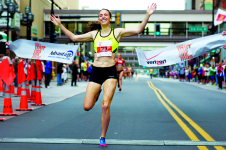 May 10, 2016
Pro fields set for USATF 1 Mile Road Championships and second stop on the Bring Back the Mile Grand Prix Tour; $25,000 prize purse with $10,000 for event record
From Twin Cities In Motion
The Medtronic TC 1 Mile, which already enjoyed a rich Minnesota flavor with a pair of locally grown defending champions, gained more Minnesota seasoning with the late addition of two strong local challengers. Joining the pro fields for the 11th edition are former University of Minnesota stars Ben Blankenship and Gabriele Grunewald.
Blankenship, 26, a Stillwater native with a Mile personal best of 3:52.7, will seek his first USATF 1 Mile Road Championship crown in Thursday evening's race in downtown Minneapolis. The former Big Ten champion returns to his home state after a runner-up finish in the Kawasaki Seiko Golden Grand Prix 3000 meter in Tokyo on Sunday.
Grunewald, 29, a Perham native who won the USATF Indoor 3000m title in 2014, returns to the Medtronic TC 1 Mile after finishing third in the event in 2011. Grunewald, a cancer survivor, will open her 2016 season at the race. She is a two-time winner of Duluth's Minnesota Mile, where she is the course record holder for women.
The pair join defending Medtronic TC 1 Mile men's champion Garrett Heath, a Winona native, and defending and two-time women's event champ Heather Kampf, a Rosemount native who starred at the University of Minnesota and now trains with Twin Cities In Motion-supported Team USA Minnesota as race favorites.
Men's and women's professional fields are now set for the event which moves to a new Minneapolis riverfront course this year. In all, 13 men and 13 women will race in the USATF 1 Mile Road Championship waves which culminate an evening of racing where more than 2,200 runners will compete over one of the sport's signature distances.
Other contenders joining Heath and Blankenship in the men's race include 2012 Medtronic TC 1 Mile champ Craig Miller (Denver, Colo.), Chad Noelle (New York, N.Y.) the winner of the Grand Blue Mile in Des Moines last month, Riley Masters (Seattle, Wash.), a third place finisher at the Grand Blue Mile, and Travis Burkstrand (Seattle, Wash.) a former University of Minnesota star.
Looking to challenge Kampf and Grunewald in the women's field are Rebecca Addison (Spring Lake, Mich.), runner-up at last year's Medtronic TC 1 Mile, her training partner Brook Handler (Adrian, Mich), winner of last month's BAA Mile held in conjunction with the Boston Marathon, and Kristen Findley (Portland, Ore.) the fourth place finisher at last year's race.
A men's and women's combined prize purse of $25,000 awaits the national championship fields. Race winners who better the existing event records will earn a $10,000 bonus in addition to the winner's prize of $5000. Sara Hall set the women's event record of 4:30.8 in 2011; Nick Willis set the men's standard in 2013 at 3:56.1.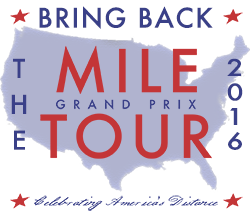 This year marks the sixth time the Medtronic TC 1 Mile has hosted the USATF 1 Mile Road Championships. The event is also the second stop on the Bring Back the Mile Grand Prix Tour that offers a $10,000 grand prix prize purse. Kampf is a three-time BBTM Grand Prix Tour winner.
The Medtronic TC 1 Mile, organized by Twin Cities In Motion, features an evening of races for runners of all ages and abilities. Action kicks off at 6:30pm CDT and culminates with the USATF Championship races at 8:01pm (women) and 8:13pm (men). The USATF Championship races will be shown live on usatf.tv (paid subscription required.)
For more information, visit us at tcmevents.org or find us on Facebook and on Twitter @tcmarathon.
USATF 1 Mile Road Championship
WOMEN
BIB # Name Residence Personal Best
1 Heather Kampf Minneapolis, Minn. 4:21.39
3 Rebecca Addison Spring Lake, Mich. 4:42.99
5 Kristen Findley Portland, Ore. 4:30.26
6 Brook Handler Ann Arbor, Mich. 4:27.75
7 Christy Cazzola Atlanta, Ga. 4:29.14
8 Tabor Scholl Boulder, Colo. 4:39.84
9 Eleanor Fulton Portland, Ore. 4:38.37
10 Nicole Blood Portland, Ore. 4:42.40
11 Maddie Van Beek Fargo, N.D. 4:44.53
12 Ayla Granados San Francisco, Calif. 4:55.1
13 Meghan Peyton Minneapolis, Minn. 4:40.5
15 Katy Moen Minneapolis, Minn. 4:50.04
19 Gabriele Grunewald Minneapolis, Minn. 4.21.3
MEN
BIB # Name Residence Personal Best
40 Garrett Heath Seattle, Wash. 3:51.0
42 Ben Blankenship Eugene, Ore. 3:52.7
43 Craig Miller Denver, Colo. 3:53.1
44 Riley Masters Seattle, Wash. 3:56.15
45 Chad Noelle New York, N.Y. 3:59.06
46 Duncan Phillips Austin, Tex. 3:56.10
47 Lex Williams Ann Arbor, Mich. 3:59.40
49 Brandon Hudgins Boone, N.C. 3:59.67
50 Travis Burkstrand Seattle, Wash. 3:59.69
52 Jon Peterson Minneapolis, Minn. 4:00.41
53 Joe Stilin Blowing Rock, N.C. 3:58.66
54 Matt Hillenbrand Seattle, Wash. 3:57.00
55 Biya Simbassa Minneapolis, Minn. 4:06.38