Blankenship, Findley Win Inaugural Kansas Road Mile Championship Crowns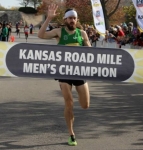 November 09, 2014
Record setting day in Wichita; U.S. Mile record holder Alan Webb honorary starter
WICHITA, Kan. – At the Kansas Road Mile Championship presented by the Kansas Spine & Specialty Hospital and GoRun Wichita, Ben Blankenship and Kristen Findley won the inaugural overall titles in 4:05 and 4:50, both state road records. The event also hosted the 1-Mile USATF Missouri Valley Championship, and the participants and crowd were also treated to many exciting performances as well on a typical cool, breezy fall Sunday in Wichita.
"Our inaugural Kansas Road Mile was an overwhelming success with 284 registered participants and 30 age group and overall times added to the Kansas Road Running Records lists," said race director Trevor Darmstetter. "The Kansas Road Mile will return in 2015 to build upon the success of 2014 and to continue to bring back the Mile, America's distance, in Kansas."
On the course that circled Towne East Mall, in the middle school Mile, Auggie Iseman (age 13) won the boys race with a 5:24, while Aimee Davis (12) took the girls race with a very impressive 5:37 clocking, which was fast enough to beat all females in the high school and Open female division. The high school Mile was won by Liam Ormiston (18) in 4:52, and Clara Keller (14) in 6:27. The nationally competitive Masters runner and four-time U.S. Olympic Marathon Trials qualifier Deborah Torneden (53) won the Open female division by running an impressive 5:50, while Peter Reed (21) captured the Open male division with his 4:47. All of the above are local greater Wichita area runners.
The elite division presented a great field of athletes, and both the men and the women champions set new all-time road marks for Kansas. Kristen Findley (23, Austin, TX) set a new Kansas Road Mile record with a 4:49.89 (officially converted to 4:50 per USATF rule), with Aliphine Tuliamuk-Bolton (25, Wichita, KS) second in 4:56.97. The top elite male Ben Blankenship (25, Eugene, OR) also established a new Kansas Road Mile record with his 4:04.34 (officially converted to 4:05 per USATF rule). The 2009 World 1500m champion Yusuf Kamel (31, Lenexa, KS) was second in 4:13.30, while Frezer Legesse (24, Bloomington, IN) and Tomas Cotter (23, Wichita, KS) were third and fourth respectively in 4:15.51 and 4:16.52.
At the Bring Back the Mile Featured Event, the honorary starter was U.S. record holder and 2004 Olympian Alan Webb, who also cheered on and hi-fived participants and signed countless autographs for his fans.
Inaugural Kansas Road Mile Championship
Wichita, KS, Sunday, November 9, 2014
MEN
1) Ben Blankenship, 25, Eugene, OR, 4:05, $700
2) Yusuf Kamel, 31, Lenexa, KS (BRN), 4:14, $400
3) Frezer Legesse, 24, Bloomington, IN, 4:16, $200
4) Tomas Cotter, 23, Wichita, KS, 4:17, $100
5) Daniel Yoder, 29, Dodge City, KS, 4:26, $50
WOMEN
1) Kristen Findley, 23, Austin, TX, 4:50, $700
2) Aliphine Tuliamuk-Bolton, 25, Wichita, KS (KEN), 4:57, $400
3) Susan Tanui, 27, Junction City, KS (KEN), 5:12, $200
4) Mallory Champa, 28, Clearwater, KS, 5:31, $100
5) Jenna Stanbrough, 23, Emporia, KS, 5:38, $50
For complete results and more, go to: www.kansasroadmile.com