Bernard Lagat: Master racer looks at 40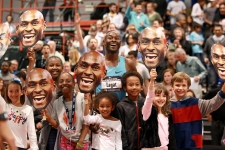 January 20, 2015
Multi-Olympic and World Championship medalist will "attack" 40-and-older Mile record at NYRR Millrose Games' famed Wanamaker Mile on Feb 14
By Cathal Dennehy, RunBlogRun.com
RunBlogRun #1: How did you find the race today?
Bernard Lagat: Conditions were tough, and I'm not too happy with the result. I felt I was prepared, but with conditions the way they were, running with the guys who know how to run in these conditions, it was a little tough for me.
RBR #2: Has your training mainly been focused on the upcoming indoor meets and trying to break some of those over-40s records?
BL: Yes. I've been training for this cross country and of course, that will then transfer into a good indoor season. I have those times in my mind, trying to do my best, to lower the times in the Mile, especially the Masters Mile, 3K and 2-Mile. I want to make a good impression in my first year as a 40-year-old. It's going to be business as usual for me, though. I'm not just going to get into races and think: 'this is just about the Masters record'. I'm going to do my best, even though I'll be running with the young guys; that's always been my mental belief.
RBR #3: When will we next see you in action?
Continue reading at: www.runblogrun.com