Ben Blankenship Regroups After Missing World Team by .02 Seconds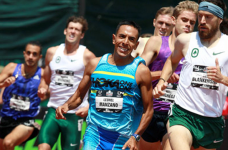 July 01, 2015
Hirsute Miler finished heartbreaking fourth at USA Outdoor Championships.
By Lindsay Rossmiller, Runner's World
At the beginning of May, after helping a U.S. team set the world record in the distance medley relay, Ben Blankenship said, "Nothing that I do in the next six or seven weeks will make any difference if I don't make the team."
He meant the U.S. 1500 meter team for the World Championships this August in Beijing.
On Saturday, Blankenship was forced to reconsider that statement after finishing fourth at the USATF Outdoor Championships by .02 seconds.
Blankenship initially broke to the front and led the pack for the first 900 meters. At the end, however, the race behind winner Matthew Centrowitz tightened considerably as Robby Andrews, Leo Manzano and Blankenship charged through the last 15 meters together in a photo finish (see below). When the times came in, three one-hundredths of a second separated second place from fourth.
Continue reading at: runnersworld.com