Ben Blankenship Breaks Medtronic TC 1 Mile Record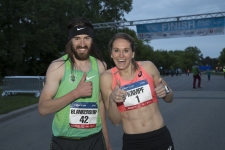 May 12, 2016
Heather Kampf wins 4th USATF 1 Mile Road title; second stop on BBTM Grand Prix Tour 2016
By Charlie Mahler, Twin Cities In Motion
MINNEAPOLIS, Minn. – Ben Blankenship broke the event record at the 11th Medtronic TC 1 Mile with a runaway 3:55.8 victory to claim his first USATF 1 Mile Road title, while Heather Kampf won her fourth USATF 1 Mile Road title and third event title overall, clocking 4:34.2.
The Minnesota natives each earned $5000 for their victories, with Blankenship, 26, also pocketing an additional $10,000 for breaking Nick Willis' 2013 mark of 3:56.1.
"I feel great about it. I wanted to come out here and dominate from the front," the Stillwater native said. "I was able to execute on the plan. I could kind of guestimate where I was based on the course record. At 1200 meters I knew I had a little bit of leeway, but not enough. I didn't want to break it by too much, if I come back again next year."
Defending national champion Garrett Heath, a Winona native, finished second in 3:59.7, while Travis Burkstrand, originally from Apple Valley, rounded out the all-Minnesota men's podium in 4:01.4.
Kampf, 29, took aim at the women's event record, herself, and while she didn't topple Sara Hall's 2011 standard of 4:30.8, she soundly outdistanced the 2016 competition.
"I had my sights set on the record, but I wasn't sure what the course would be like," the former University of Minnesota star said. "I got out quick enough, but it was tough because I didn't have anyone to chase on the backstretch."
Christy Cazzola of Marietta, Georgia, finished national runner-up in 4:37.2, while Minnesotan Gabriele Grunewald – who lives in a building on the downtown Minneapolis race course – finished third in 4:39.0.
More than 2,300 runners registered for the event with a new course that ran along the Mississippi Riverfront and finished near the Guthrie Theater. In addition to hosting the USATF 1 Mile Road Championships, the event also served as the second stop on the Bring Back the Mile Grand Prix Tour 2016, featuring more than $110,000 in total prize money and a $10,000 grand prize purse.
11th Medtronic TC 1 Mile
BBTM Grand Prix Tour 2016 second stop
Minneapolis, MN, Thursday evening, May 12, 2016
MEN
1) Ben Blankenship (OR), 3:55.8*, $15,000#
2) Garrett Heath (WA), 3:59.7, $3000
3) Travis Burkstrand (WA), 4:01.4, $1800
4) Duncan Phillips (TX), 4:01.8, $1000
5) Brandon Hudgins (NC), 4:02.3, $600
6) Lex Williams (MI), 4:02.8, $400
7) Riley Masters (WA), 4:03.5, $250
8) Chad Noelle (OK), 4:04.8, $200
9) Abbabiya Simbassa (MN), 4:05.5, $150
10) Craig Miller (WI), 4:06.3, $100
* event record (previous record, 3:56.1, Nick Willis (NZL), 2013)
# includes $10,000 event record bonus
WOMEN
1) Heather Kampf (MN), 4:34.2, $5000
2) Christy Cazzola (GA), 4:37.2, $3000
3) Gabriele Grunewald (MN), 4:39.0, $1800
4) Brook Handler (MI), 4:40.6, $1000
5) Maddie Van Beek (ND), 4:41.7, $600
6) Ayla Granados (CA), 4:43.3, $400
7) Meghan Peyton (MN), 4:45.2, $250
8) Tabor Scholl (CO), 4:47.2, $200
9) Katy Moen (MN), 4:47.7, $150
10) Kristen Findley (OR), 4:48.0, $100
Complete results can be found at: tcmevents.org
Photo above by Competitive Image courtesy of Twin Cities In Motion