Being Blankenship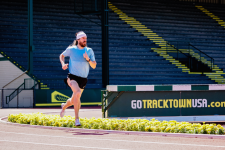 June 24, 2015
Rising U.S. Mile star Ben Blankenship has cultivated a rather unique look and has a distinctive personality to match. Here's our special guide to being Blankenship.
From Spikes
Grow your hair
Ben Blankenship had long hair throughout his high school years until one day, in his sophomore year of college, he decided to shave it all off on a whim so that he was "almost bald". Thankfully the long hair has since returned and has become the cornerstone of his look.
"I tend to be a little bit different, maybe," admits the laid-back Minnesotan from the city of Stillwater. "I've basically been growing it for the past few years.
"I guess some days when it is hot and miserable I wish I didn't have it, but I don't put too much thought into it. Women have long hair and they don't seem to be too affected by it."
Continue reading at: spikes.iaaf.org