Beating John Landy stands above record: Roger Bannister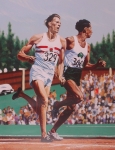 May 06, 2014
"Vancouver was the pinnacle of my athletics career. It is very difficult to break records during Olympic competition, but winning races was better than holding world records."
By AFP for The Australian
Sixty years since becoming the first man to run a Mile in under four minutes, Roger Bannister has said defeating Australia's John Landy to win Commonwealth Games gold was a greater achievement.
It was at the Iffley Road track in Oxford that Bannister achieved sporting immortality by running a Mile in a time of 3 minutes 59.4 seconds on May 6, 1954.
But defeating Landy — who had lowered the Mile mark just 46 days after the Briton's record-breaking feat — at the 1954 Commonwealth Games in Vancouver was the superior feat in Bannister's opinion.
"I think that racing in the Olympics and Commonwealths is more important than breaking records," Bannister said, with the current Mile world record held by Morocco's Hicham El Guerrouj in a time of 3:43.13 secs.
"Vancouver was the pinnacle of my athletics career. It is very difficult to break records during Olympic competition, but winning races was better than holding world records."
Having suffered the disappointment of coming fourth in the final of the 1500 meters (0.932 miles) at the 1952 Olympics in Helsinki, Bannister was determined to do better at the British Empire and Commonwealth Games (now known simply as the Commonwealth Games).
Continue reading at: www.theaustralian.com