Bannister Marks 60th Anniversary of 4 Minute Mile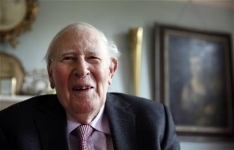 May 04, 2014
"Bannister's 3:59.4 remains part of track and field lore, a symbol of boundary-busting endurance that stands the test of time."
By Stephen Wilson, Associated Press
OXFORD, England (AP) — Sixty years later, Roger Bannister is busy reliving the four minutes that still endure as a transcendent moment in sports history.
It was on a wet, blustery spring day — May 6, 1954 — that the lanky English medical student became the first runner to break the fabled 4-minute barrier in the mile, a feat that many had thought was humanly impossible.
Helped by two pace makers, the 25-year-old Bannister completed four laps around a cinder track in Oxford in 3 minutes, 59.4 seconds, a milestone that captured the world's fascination and still resonates today.
Continue reading at: http://bigstory.ap.org/