Beauty Meets Drive: Lea Wallace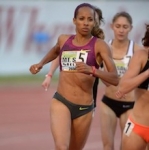 June 16, 2014
Where her foster family had once struggled to buy Wallace running shoes, she is now establishing a stellar reputation in the running world.
By Joanna Douglas, Yahoo! Beauty
Lea Wallace's Olympic training started on the playground. "If I played tag, I knew I could freeze everyone in three minutes," says the 25-year-old Nike-sponsored runner. "When I was in high school my female P.E. teacher had us run a Mile every Friday and it became a game to try to beat me. She said she'd reward my classmates with prizes, but it never happened."
In spite of her speed, Wallace ran recreationally, studying nutrition at Sacramento State with plans to attend grad school, until her senior year. "I was at a big meet with the best long-distance runners in the country," says Wallace. "I was one of two college athletes on that line with these world champions I'd idolized standing next to me and I shaved 15 seconds off of my best time. I didn't want to let it go." After that, agents were knocking on her door.
Where her foster family had once struggled to buy Wallace running shoes, she was now establishing a stellar reputation in the running world. "I'd wear them into the ground, and you feel really bad going to your parents saying, 'I know it happened again,'" says Wallace. "When I recently signed a deal with Nike it was so crazy it blew my mind. I came home and there were eight boxes waiting for me. That's more than I've owned in my life!"
Continue reading at: www.yahoo.com