Avila, Osika set Tennessee records at Ed Murphey Memphis Mile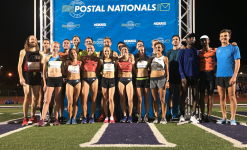 August 26, 2018
BBTM Grand Prix Tour 2018 fourth stop awards $19,500; next stop Minnesota Mile on Friday, September 7
By Taylor Dutch, Runner's World
The second annual Ed Murphey Memphis Mile saw two Tennessee records fall under the lights Saturday night at Christian Brothers High School in Memphis. Both male and female winners demolished the previous records for fastest Miles run in the state to highlight the fourth stop on the Bring Back the Mile Grand Prix Tour 2018.
The men's field gave the crowd an exciting battle, with four men sprinting towards the finish and leaning into the line within milliseconds of each other. Eric Avila emerged as the winner with a time of 3:55.43, while Ryan Hill (3:55.48), defending champion Craig Engels (3:55.51) and Johnny Gregorek (3:55.67) rushed into the finish line under 3:56. Overall, nine men went under the coveted sub-4 mark.
The race began with Jesse Garn pacing the field through the first quarter in 59 seconds, comfortably under a 4 minute Mile pace. Colby Alexander followed on Garn's heels, who was leading a field that was strung out, but running closely in contention.
Garn and Alexander continued to lead the pack through 1200 meters in 2:58, at which point Garn stepped off the track and let the contenders race for position in the exciting final moments.
As the top group rushed into the backstretch, Gregorek, Engels, Hill and Avila all jockeyed for position. By the final homestretch, the race became a kickers battle, with four men fighting for the lead all the way into the finish line. They leaned into the tape together, but Avila emerged victorious.
Avila's performance broke the previous Tennessee record of 3:55.65 set by Canadian Olympian Nate Brannan in 2014. The 28-year-old also improved on his outdoor Mile personal best by over a second.
"Memphis was lit," Avila wrote on Instagram. "Special thanks to @maxrpaquette, CBHS and the Memphis youth athletics for putting together such a great event."
The women's race was won more decisively as Shannon Osika demolished the field with a winning time of 4:25.47, four seconds ahead of runner-up Kate Van Buskirk of Canada.
Continue reading, includes race videos, at: runnersworld.com
BBTM Grand Prix Tour 2018 summary and current standings HERE.