Athletics Weekly Readers Vote Sebastian Coe as the Leading Miler of All-Time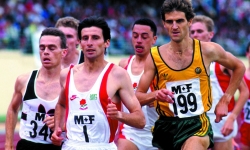 May 12, 2014
Sebastian Coe has been voted the greatest ever Supermiler by readers of Athletics Weekly.
By Jessica Whittington, Athletics Weekly
In a poll run to coincide with the 60th anniversary of Roger Bannister's first ever sub-4 minute Mile on May 6, Sebastian Coe received an impressive 40% of the votes naming him the ultimate Supermiler.
More than 400 people voted in the poll, with Coe forming part of a five-strong shortlist which had been compiled via a reader vote.
Picking up silver behind Coe was rival Steve Ovett with 28% of the votes, while bronze went to current world record holder Hicham El Guerrouj with 16%.
Continue reading at: www.athleticsweekly.com