At Navy Mile, new records and satisfying accomplishments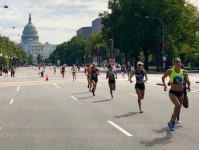 September 30, 2018
Tessema sets men's event record, Kampf returns to win women's title again at 4th edition in nation's capital
By David J. Kim, The Washington Post
A quarter way into Sunday's The Navy Mile, Brandon Hudgins knew his body wasn't feeling right. He didn't feel this tired just three weeks ago when he ran the same distance on a hilly course in Duluth, Minn. But on race day, he "just didn't quite have the mojo."
Hudgins crossed the finish line at 4:17.32, more than 10 seconds slower than his goal and seventh in the 15-person Elite Men category.
But considering he was diagnosed 11 years ago with Granulomatosis with polyangiitis, a rare autoimmune blood disease, and currently breathes through a windpipe the size of a man's pinkie, it was a feat that he even participated in, and finished, the event.
"I can't say it in a not expletive form. I thought I was going to do much better," said the Jamestown, N.C., resident, who still receives treatment — most recently an immunotherapy session in March, with another set for Thursday. "But I'm proud of myself for not throwing in the towel and jogging it in."
The fourth annual The Navy Mile is a Mile road race that consists of different heats, where runners are grouped by age and ability from Elite and Paralympic Heats to Sea Cadets and Family Fun Run / Walk Heats. The event is modeled after the Fifth Avenue Mile in New York City and is the grand finale race in the nationwide Bring Back the Mile Grand Prix Tour 2018. Participants ran the course on Pennsylvania Avenue NW by the U.S. Navy Memorial Plaza to 3rd Street NW and back, with the U.S. Capitol visible.
Continue reading at: washingtonpost.com
4th The Navy Mile presented by USAA
Bring Back the Mile Grand Prix Tour 2018 Finale, 6th stop
Washington, DC, Sunday, September 30, 2018
MEN
1) Josef Tessema (CO), 4:01.89*, $3000
2) Kirubel Erassa (GA), 4:02.83, $2000
3) Willy Fink (VA), 4:03.33, $1250
4) Daniel Herrera (LA), 4:08.07, $750
5) Wade Meddles (CO), 4:13.52, $500
6) Nick Willis (NZL), 4:16.31
7) Brandon Hudgins (NC), 4:17.32
8) Caleb Gatchell (PA), 4:18.87
9) Andy Phillips (CO), 4:19.41
10) Daniel Trettel (MD), 4:19.77
*event record (previous record, 4:04 (4:03.73), Riley Masters (USA / WA), 2016)
WOMEN
1) Heather Kampf (MN), 4:40.77, $3000
2) Kellyn Taylor (AZ), 4:42.84, $2000
3) Eglay Nalyanya (KEN), 4:45.85, $1250
4) Sarah Lancaster (TX), 4:46.76, $750
5) Maggie Montoya (CO), 4:50.10, $500
6) Carina Gillespie (CO), 4:53.28
7) Michelle Howell (DC), 4:57.38
8) Breanna Sieracki (MN), 4:59.05
9) Taylor Tubbs (VA), 5:00.28
10) Gina McNamara (DC), 5:05.87
Complete results at: https://thenavymile.com/results/